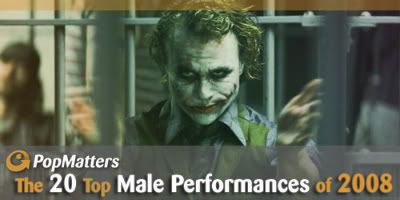 Popmatters kicked off their annual year-end film week on Monday, which in the past few days saw such lists as the Top 10 Guilty Pleasures of '08 and the Top 30 DVDs of the Year, among other lists. Today however, we get to the good stuff. The staff writers (which, full disclosure, does include me) spent the holidays voting on their favorite performances of the year, which the site has now tabulated into separate lists of the
Top 20 Male
and
Female Performances
of the year. I wrote the blurb for Mickey Rourke's devastating performance in
The Wrestler
, the #4 male pick. I didn't get the opportunity to write about any of the women unfortunately, but I will say I have no problem with any of the collective choices except for the inclusion of Thandie Newton's turn in
W.
, which would probably get my vote for the year's worst performance. This is a democratic process though, and that is how the votes came out. Here are the top tens.
Male:
1. Heath Ledger - The Dark Knight
2. Sean Penn - Milk
3. Robert Downey Jr. - Tropic Thunder
4. Mickey Rourke - The Wrestler
5. Michael Shannon - Revolutionary Road
6. Josh Brolin - W.
7. Robert Downey Jr. - Iron Man
8. Frank Langella - Frost/Nixon
9. Mathieu Amalric - A Christmas Tale
10. Michael Sheen - Frost/Nixon
The Complete List
Female:
1. Sally Hawkins - Happy-Go-Lucky
2. Anne Hathaway - Rachel Getting Married
3. Melissa Leo - Frozen River
4. Marisa Tomei - The Wrestler
5. Kate Winslet - Revolutionary Road
6. Michelle Williams - Wendy and Lucy
7. Ann Savage - My Winnipeg
8. Dianne Wiest - Synecdoche, New York
9. Penelope Cruz - Vicky Cristina Barcelona
10. Angelina Jolie - Changeling
The Complete List