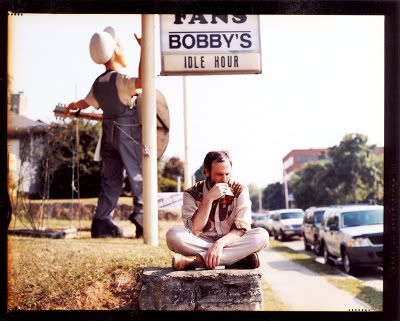 Well,
this is certainly depressing
. Assuming it is true, one of my all-time favorite songwriters is hanging it up after nearly 20 years and 6 wonderful records. Just last year Berman and his Silver Jews released the
supremely underrated
Lookout Mountain, Lookout Sea
, his most hopeful and light-hearted record to date. If this is indeed the last we hear from Berman musically, he has left us with one of the most indelible catalogues in modern music. I've already got a new Break Up Your Band column in the works for next week at iRO (if you missed the first entry, you can read it
here
), but you can already pencil in the next column as a look at the Jews and their landmark 1998 record
American Water
.
"Chalk lines around my body




Like the shoreline of a lake




Your laughter made me nervous




It made your body shake too hard





Now there's a lot of things that I'm gonna miss




Like thunder down country and the way water drips




When you're running for the door in the rain




Read the metro section...See my name





No I didn't really want to die




I only want to die in your eyes




Grant me one last wish




Life should mean a lot less than this




Grant me one last wish




Life should mean a lot less than this

"

- David Berman ("How to Rent a Room")