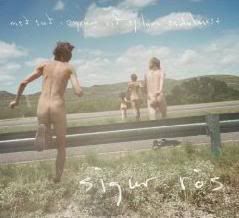 If there was ever a band that desperately needed to change up their style, it was Sigur Rós. The Icelandic dream-weavers are living proof that even the most original bands eventually need to grow in order to offset stagnation. The band's 2005 album
Takk
, while undeniably beautiful, felt repetitive, as if the band's wellspring of ideas had been sucked dry. Revisionist history will probably shine a better light on
Takk
, as the record is home to a number of fantastic songs, yet it will also probably always carry with it an air of over-familiarity. Growing restless of their constant pigeonholing in black hole of post-rock, or perhaps just recognizing the less enthusiastic reactions garnered by
Takk
, Sigur Rós have taken a welcome dive into uncharted waters with
Með suð í eyrum við spilum endalaust
, certainly not a record of unadulterated success throughout, but a refreshing offshoot from their core sound nonetheless.
Right out of the gate things become fantastically disorienting, as opener "Gobbledigook" drops tribal percussion and volleying vocal whoops in-and-out of unison, sounding more like Animal Collective than anything this band has previously attached their name to. The remaining ten songs aren't quite so adventurous, yet from the opening notes it becomes apparent that the band is pursuing a very specific muse.
For such a stone-faced serious band,
Með suð í eyrum við spilum endalaust
is extremely loose and at times almost playful. Following "Gobbledigook", the strong three song run of "Inní mér syngur vitleysingur", "Gódan daginn" and "Vid spilum endalaust" come across as near pop songs, each with wonderful melodies carried by Jónsi Birgisson still breathtaking falsetto. The song lengths in particular help add to the success and immediacy, with just one of these crossing the 5 minute mark. This concision unfortunately is abandon on occasion though, as the band gives into hold habits with the plodding "Festival" and the near-numbing "Ára bátur", both of which top out at 9 minutes. Apart from those two momentum killers though, everything else presented here ranges from great to, at the very least, interesting, culminating with "All Alright", the band's first English-language song and perhaps the strongest standalone song here.
Með suð í eyrum við spilum endalaust
, while not the earth-shattering statement
Ágætis Byrjun
was in 2000, and not as stop-dead gorgeous as
( )
a couple of years later, is still everything you could possibly want from a band in transition mode. Considering this band could have coasted by crafting side-long aural wallpaper for the rest of their careers - a sound they perfected almost a half decade ago - it is with utmost respect that I endorse
Með suð í eyrum við spilum endalaust
.
Highlights: "Gobbledigook", "Inní mér syngur vitleysingur", "Med sud í eyrum"