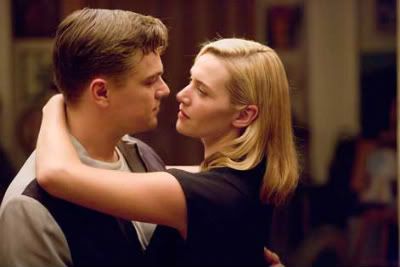 Let's start with the obvious:
Revolutionary Road
and
The Reader
got the biggest leg up today (and to a lesser extent,
Doubt
), as they had been all but absent from the critic's awards of the last week. Both films received Best Picture and Best Director nominations, along with the appropriate acting marks for each. On the other side of the spectrum we have
Milk
and
The Dark Knigh
t, who got the shaft in a big way, with each film only picking up one nod a piece, both in the expected acting categories.
And those acting nominations were predictability star-driven again this year, or at least that's the only way I can explain a left-field supporting nod for Tom Cruise (and this coming from a big
Tropic Thunder
fan). But it's those supporting categories that are actually the most baffling, although by now we should have come to expect it I suppose. Ray Fiennes picked up a nod for
The Duchess
, his first and probably last. Meanwhile the men of
Milk
, Josh Brolin and James Franco, received no love (you could argue vote split, but I doubt it considering the full-on cold shoulder the film got all around). A surprise on the female side was Amy Adams, one of four nominees from
Doubt
, although I wouldn't get too excited, as she has a uphill climb ahead of her, especially seeing as how Viola Davis is all but locked for an Oscar nod and the fact that double category nominarions are tough to pull off.
And then there are the comedy categories, which are normally pretty useless, though this year there were some worthy nominees.
Vicki Cristina Barcelona
made a big showing, while more unexpectedly,
In Bruges
brought it's two leads some recognition. Sally Hawkins grabbed yet another mention for her great work in Happy-Go-Lucky, and with a very thin Best Actress in a Comedy category, I think she takes the Globe as well, all but assuring her an Oscar nomination.
Finally, it'll be interesting to see which film the guilds form around. If this really is just the first step for
Revolutionary Road
or
The Reader
, then the field may be drastically changing in the coming weeks, as both those films had been faltering recently with no admiration from the critic's circles. What we do know now is that
Slumdog Millionaire
,
Benjamin Button
and
Frost/Nixon
are as strong as ever. However, I wouldn't read too much into the
Milk
and
Dark Knight
snubs, as these aren't the types of films that usually play well with the HFPA (read: very American). The guilds are the final say, and they will ultimately weed out the weak.
And in tribute to their nomination of Tom Cruise, all I have to say to the HFPA is, "a nutless monkey could do your job."
Best Picture, Drama
Benjamin Button
Frost/Nixon
The Reader
Revolutionary Road
Slumdog Millionaire
Best Picture Comedy/Musical
Burn After Reading
Happy Go Lucky
In Bruges
Mamma Mia
Vicky Cristina Barcelona
Director
Danny Boyle, Slumdog Millionaire
Stephen Daldry, The Reader
David Fincher, Ben Button
Ron Howard, Frost/Nixon
Sam Mendes, Revolutionary Road
Actor, Drama
Leonardo DiCaprio, Revolutionary Road
Frank Langella, Frost/Nixon
Sean Penn, Milk
Brad Pitt, Benjamin Button
Mickey Rourke, The Wrestler
Actress, Drama
Anne Hathaway, Rachel Getting Married
Angelina Jolie, Changeling
Meryl Streep, Doubt
Kristin Scott Thomas, I've Loved you So Long
Kate Winslet, Revolutionary Road
Supporting Actor
Tom Cruise, Tropic Thunder
Robert Downey Jr. Tropic Tunder
Ralph Fiennes, The Duchess
Philip Seymour Hoffman, Doubt
Heath Ledger, The Dark Knight
Supporting Actress
Amy Adams, Doubt
Penelope Cruz, Vicky Cristina Barcelona
Viola Davis, Doubt
Marisa Tomei, The Wrestler
Kate Winslet, The Reader
Actor, Comedy
Javier Bardem, Vicky Cristina Barcelona
Colin Farrel, In Bruges
James Franco, Pineapple Express
Brendan Gleason, In Bruges
Dustin Hoffman Last Chance Harvey
Actress, Comedy
Rebecca Hall, Vicky Cristina
Sally Hawkins, Happy-Go-Lucky
Frances McDormand, Burn After Reading
Meryl Streep, Mamma Mia
Emma Thompson, Last Chance Harvey
Foreign Language Film
The Baader Meinhof Complex (Germany)
Everlasting Moments (Sweden)
Gomorrah (Italy)
I've Loved You So Long
Waltz with Bashir
Animated Feature
Bolt
Kung Fu Panda
Wall-E
Screenplay
Slumdog Millionaire
The Reader
Frost/Nixon
Benjamin Button
Doubt
Score
Benjamin Button
Changeling
Defiance
Slumdog Millionaire
Frost/Nixon
Song
Down to Earth, Wall-E
Gran Torino
I thought I Lost You, Bolt
Once in a Lifetime, Cadillac Record
The Wrestler, The Wrestler