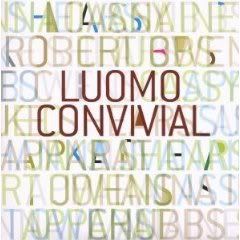 The title of Sasu Rippati's 2000 album
Vocalcity
wasn't just an enveloping concept for the record at hand, but a handy blueprint for everything Rippati has since attempted under the Luomo banner.
Vocalcity
was a landmark in the house community, and the following two records, while not as head-turning as Luomo's debut, still managed to streamline Rippati's approach while adding the human voice to nearly every square inch of his propulsive sound. The fourth Luomo album,
Convivial
, is Rippati's most pop-oriented work to date, featuring a nice roll call of guest vocalists and a comparatively compact structure, with each song hovering around the 6-8 minute mark, as opposed to the lengthier excursions of previous albums. It's still a dense and occasionally exhausting listen, but it is still probably the best inroad into Rippati's work for the unfamiliar or house adverse.
As has slowly become the case with nearly all the work Rippati has done under the Luomo moniker (you may also recognize his other work as Vladislav Delay or Uusitalo), the success of each individual track hinges on that of the vocal performance. As the music of Luomo has become somewhat ingrained in the spheres of house and minimal techno, your eventual acceptance of
Convivial
, and Loumo as a musical entity, will more often than not come down to your affinity for the man or woman behind the mic. If nothing else,
Convivial
features Ripatti's most wide-ranging guest vocalists to date, with both Apparat's Sascha Ring and Scissor Sisters' Jake Shears lending their distinctive pipes to the proceedings to compliment (among others) Luomo regular Johanna Iivanainen, who pops up in three different tracks. The former two standout immediately and help anchor the front-loaded first quarter of the record, as both "Love You All" and "If I Can't", with their falsetto vocals and flamboyant facade on full display, lend an androgynous sexiness to the proceedings.
Sadly, I can't give my whole-hearted praise to entirety of the record though, as Sue-C's guest rap on "Nothing Goes Away" makes me cringe in a way that I haven't since Justice's similarly cheesy "Ttthee Ppaarrttyy". And Johanna Iivanainen, while she's a perfectly fine vocalist, gets a little same-y as she shows up three times in the last four songs. Plus, as Luomo travels down this more electro-pop oriented terrain, I wish he would have scaled back his compositions even further than he has, as listening to
Convivial
as entire 70 minute record tends to be a more of a chore than a privilege. On a song by song basis though,
Convivial
may be Luomo's most welcoming and playlist-worthy work yet. It couldn't possibly top
Vocalcity
for sheer ingenuity, and to Rippati's credit he is not even attempting to, but as a reconciling of past experiments and as a venture down more accessible roads,
Convivial
is occasionally inspired.
Highlights: "Have You Ever", "Love You All", "If I Can't", "Slow Dying Places"
"If I Can't" (ft. Jake Shears)