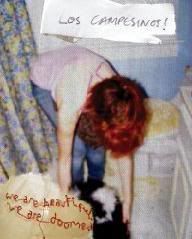 Stereo Sanctity Album of the Week
(November 16 - 22, 2008)

Those thick Welsh accents belie the fact that Cardiff-based Los Campesinos! are the most American of the current contingent of foreign-born pop groups. If not in sound, then certainly in approach, as this seven-piece band gleefully apes from a wide aesthetic swath of 80 & 90s American indie-rock and pop (check that spot-on album cover), particularly Pavement, Beat Happening, Heavenly and even Black Flag (all of which the band have covered on record). Despite all the frames of reference though, this is still determinedly peppy pop music, full of chiming guitars, clinking keyboards, cheeky glockenspiels and swooping strings. It's self-conscious and prone to fits of screaming, and at times can become overwhelming if not consumed in small doses, but with
We Are Beautiful, We Are Doomed
, the band's second album in less than year (following this Spring's slightly superior
Hold On Now, Youngster
), Los Campesinos! have solidified their spot at the forefront of the trans-continental indie-pop scene.
Releasing two records in a single year would be a tall task for any band, and seeing how
We Are Beautiful
doesn't in any way come across as
Youngster
left-overs, the highest compliment I can pay Los Campesinos! is that they are riding a wave of inspiration right now that is nearly second-to-none.
Youngster
being the stronger of the two records has more to do with the fact that it carried over a few of the best tracks from their wonderful 2007 EP
Sticking Fingers into Sockets
, more so than it has to do with any single song being sub-par here. In fact,
We Are Beautiful
feels like a more thoughtfully arranged record, as if more time were put into it's sequencing and flow than with
Youngster
, although this music is still as hyperactive and unpredictable as ever.
Still, in many ways,
We Are Beautiful
is a more experimental record than the band's previous work, as the spoken-word sections of the title track and the one-minute intrumental "Between an Erupting Sky and an Exploding Earth" bear witness to. Everything else is more or less what you've come to expect from these guys (and gals) however. Opener "Ways to Make it Through a Wall" is jumpy and giddy and as infectious a song as they've written, while "You'll Need Those Fingers for Crossing",
Beautiful's
answer to
Youngster's
"You! Me! Dancing!", is a meticulously built mini-epic with some of the Gareth Campesinos' most insightful lyrics. They even make room for a ballad, a first for the band, with the quietly soothing penultimate track "Heart Swells/Pacific Daylight Time".
The most rewarding aspect of the Los Campesinos! formula is the frequent feel as if they've stumbled upon a melody or an insight as if by accident. As all good bands do though, they make the most of these little discoveries and dive headlong into their influences like on-coming traffic. It's a beautiful wreck of a sound they have constructed over two full-lengths and an EP, and they don't seem to be slowing down for the listener to catch their breath anytime soon.
Highlights: "Ways to Make It Through a Wall", "Miserabilia", "It's Never That Easy Though, Is It? (Song for the Other Kurt)"
"Ways to Make It Through a Wall"
"We Are Beautiful, We Are Doomed"