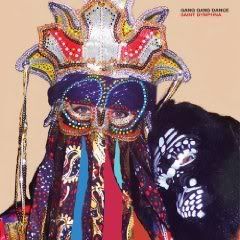 Stereo Sanctity Album of the Week
(November 2 - 8, 2008)
Well, it was inevitable is suppose, but they've finally gone and put the dance in Gang Gang Dance. In all actuality though, the elements were always there, although they've always hewed more toward the noisily abstract end of the spectrum. Not so on
Saint Dymphna
however, the eagerly anticipated follow-up to 2005s cult classic
God's Money
. So Gang Gang Dance have streamlined their approach, increased their focus and embraced a strain of house music and 80s electro that is entirely outdated but reconfigured on record to sound entirely fresh and free of pretense. Their ambition occasionally outruns good taste, but there is no denying that
Saint Dymphna
is reaching for something grand and unknowable. It feels entirely foreign yet altogether comfortable inside
Saint Dymphna's
field of sound, despite the tribal tangents, guest rappers and coke-fueled synths anchoring the majority of these perfectly sequenced tracks. This is an entirely different but not completely unexpected record for these former noise-niks, and
Saint Dymphna
plays like the bands most unwavering and carefully constructed record to date. And you can dance to it.
The first quarter of the album is especially strong, as the slowly unraveling abstractness of "Bebey" bleeds unimpeded into the uproarious "First Communion", a stomping tribal dance featuring the wordless chants, yelps and screams of singer Lizzi Bougatsos, whose striking vocals make infrequent yet highly memorable appearances throughout the album.
Saint Dymphna
is split roughly down the middle between instrumentals and vocal tracks, and wordless numbers such as the early M83-like "Vacuum", the fragmented "Inners Pace", and the perfectly titled comedown "Dust, all provide welcome breathers between the exhausting vocal numbers. The most head-turning track on
Saint Dymphna
is most assuredly "Princes", featuring Grime MC Tinchy Stryder, who half-raps/half-talks over a classic Gang Gang Dance framework, highlighting the range and adaptability of a very idiosyncratic sound for singers of all stripes, not just the un-tethered whoops of Bougatsos.
"House Jam" is where you see all the objectives and intentions of
Saint Dymphna
on full display however. The title itself is the first tip-off, as the Madonna-slick synths and smooth electronics glide beautifully across the channels, cresting to complete not just the most unashamedly dance track in their repertoire, but one of the great electronic pieces of the year. As has become their M.O., Gang Gang Dance keep you on your toes though, as they follow the sleek, groove oriented "House Jam" with the maniacally uncompromising "Desert Storm", the records noisiest and most primal moment. It's penultimate placement on
Saint Dymphna
reiterates the band's adherence to the album format, as the track's intensity yields to the patiently swirling drones of "Dust" (see what they did with the titles there). Few bands have proven as restlessly creative as Gang Gang Dance over the last 3 years, as they've experimented with new sounds on small-run EPs, only to hone their new found passion into a full-length that is beautifully disorienting yet frequently thrilling, and often all at once.
Highlights: "First Communion", "Vacuum", "Afoot", "House Jam", "Desert Storm"