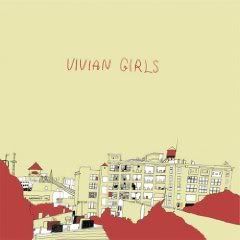 As diametrically opposed as 1950s girl groups and late 80s shoegaze seem on paper, they've actually always had quite a bit in common. Scene progenitors The Jesus & Mary Chain were hugely indebted to girl groups, as they hid heavenly harmonies behind ear-grinding feedback. Even My Bloody Valentine, while not as overt with their channeling of these groups, still maintained an undeniable feminine mystique. As shoegaze faded in the early 90s, small boy-girl groups kept the tradition alive in more pop oriented ways as they traded tapes amongst the underground. Twee-pop luminaries such as Cub and Beat Happening had distinct 1950s influences, and although they kept the distortion to a minimum, at least compared to those aforementioned shoegaze acts, they did indeed carry the torch into the second half of the 90s, where the genre lay somewhat dormant.
In the new decade though, there have been no shortage of shoegaze-inspired acts, except that more often than not these groups (A Place to Bury Strangers for instance) construct impenetrable masculine facades similar to those of Ride or even Swervedriver. On the other hand, we've seen literal updates of the 50s girl group phenomena in the form of The Pipettes. What emerging NYC all-girl trio Vivian Girls have done then is kind of split the difference between noisy outbursts and pop nuggets. In other words, their debut record doesn't break any new ground, but it's been such a long time since a band put these two genres together so effortlessly that it feels surprisingly fresh.
Vivian Girls
then, is a ten song, 22 minute tantrum of punk energy, effects pedals wizardry and beautifully layered vocal harmonies. When the songs hover around the 90 second mark (which they often do), that is when their nosier punk edge is more readily noticeable. As they stretch their songwriting legs for a two song, mid-album breather though, that is where you'll find the best traces of pop gold nestled within the fuzz of
Vivian Girls
. So while nothing here is close to filler, "Tell the World" and "Where Do You Run To" still tower above the other 8 tracks. Despite these centerpieces though, this is a well balanced record, as the songs move in an arc from quick blasts to three dimensional pop songs and back again. So as much as you may want more moments in the "Where Do You Run To" vein, repeated listens make clear that the Girls will only tip their hand so much. This works wonders for them, as these tight and instantly memorable gems will leave you salivating for more.
Highlights: "All the Time", "Tell the World", "Where Do You Run To", "No"
RIYL: Beat Happening, All Girl Summer Fun Band, The Jesus & Mary Chain, The Breeders
"Tell The World"
"Where Do You Run To"