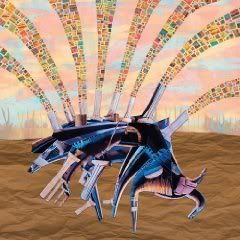 After four LPs of increasingly accessible experimental rock, it would be a misnomer to continue to qualify Parts & Labor as a noise band. Dan Friel's electronics still spark and misfire left-and-right, and there is the constant flurry of short circuiting amp buzz that defines the Parts & Labor sound, but the huge melodies that Friel and B.J. Warshaw graft onto these structures has become altogether anthemic. Their already quite good 2007 record
Mapmaker
was the band's first step in this direction, although they still made room for some tinnitus-inducing blast beats and shrieking guitar breakdowns. There is nothing quite so earsplitting on their strong new record
Receivers
, but their noise - while tempered to a degree - is utilized here to much better effect, more as a foundation for fully-formed songs than as afterthoughts to what, are at heart, extremely effective pop songs.
Mapmaker
standout "Fractured Skies" ousted Parts & Labor as pop band, and taking cues from that career shifting moment,
Receivers
goes the distance, as nearly every song features a propulsive, fist-pumping chorus. Despite this being Parts & Labor's quote-unquote pop record,
Receivers
actually sees the band stretching out their structures quite a bit. There are only 8 songs on the album, two of which clock in at over 7 minutes, yet
Receivers
rarely loses momentum, instead opting to constantly built to occasionally dizzying heights, as on opener "Satellites", which steadily adds instrumentation until the absolute breaking point, eventually segueing into "Nowhere's Nigh", which stands as
Receiver's
answer to "Fractured Skies". They've hinted at this kind of song craft in the past, yet
Receivers
wonderfully splits the difference between their more outré tendencies and their desire to unite via huge sing-a-longs.
As always, there are a number of ways to approach a Parts & Labor record, as they combine traditional rock instrumentation with electronics as well as anybody. Electronics guru Dan Friel, who released an equally fascinating (and vastly underrated) solo record this year entitled
Ghost Town
, builds his unique and barely sturdy foundations through a tangle of wires and homemade noise boxes. Warshaw on the other hand, with the help of new members Joe Wong and Sarah Lipstate, provides the thunder, powering along within the confines of the song, but always teasing with the possibility of collapse. This newly formed four-piece certainly houses the most promise for future Parts & Labor records, as
Receivers
feels more like full band effort than previous records, but as of right now, this is the most accomplished and re-playable album the band has recorded thus far.
Highlights: "Satellites" "Nowhere's Nigh", "Wedding in a Wasteland", "Little Ones"
RIYL: Oneida, Japanther, HEALTH