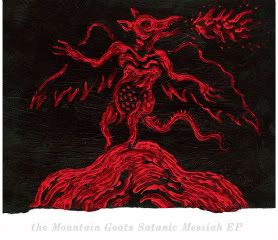 Not many artists have built such a substantial career out of just two main instruments- and in such a compelling way - as John Darnielle has as the leader of the Mountain Goats. His creaky acoustic guitar has always played second fiddle that voice, a full bodied, high register quaver that determinedly sells his ultra-detailed and strikingly vivid lyrics, which over the last 15 years have ranged from high school football stars to an abusive father to chemical dependency to simple, universal loneliness. With his jump to 4AD a few years back, and his subsequent growth as an arranger - electric guitar, strings and drums have all filled out recent Mountain Goats records - Darnielle has seen his sound grow substantially, yet at the heart of every piece is still that disarming voice. In a slight retreat from the fuller sounds of this year's great
Heretic Pride
, the
Satanic Messiah
EP
(limited to 666 vinyl copies, but also available for
pay-what-you-want download
) finds Darnielle stripping back, with two of the EP's four songs built mainly around his tried-and-true acoustic, while in a surprising change-of-pace, the two others are accompanied solely by sparse piano.
The title track and EP centerpiece is one of the very best modern Darnielle songs. Buoyed only by the light touch of ivories, Darnielle holds back on his more expressive vocal style, instead reading the song almost as a hymn, and "Satanic Messiah" works for the very reason that it is so understated and thematically ambiguous. It may be about a hyped rock star or the anti-christ, but no matter its meaning, the feeling of hushed intimacy and uneasy acceptance resonates deeply. Along with the title track, closer "Gojam Province 1968" is also a solo piano piece, and although its story of murdered tax collectors isn't as inherently poignant, the track is a firm reiteration of Darnielle's lucid storytelling ability.
The two other tracks, "Sarcofago Live" and "Wizard Buys a Hat", feature a bed of piano and light string draping respectively, although Darnielle keeps the songs moving with his brisk acoustic flutters. The former in particular is strong enough to have appeared on a recent Mountain Goats full-length, but fits perfectly here with it's understated atmosphere and vague yet sharp lyrical motifs. With only 4 tracks that barely surpass 12 minutes in length,
Satanic Messiah
is modest enough to overlook, yet make no mistake, this is one of Darnielle's best short form works in years, and a nice reminder of how excellent
Heretic Pride
was despite it's more diverse sonic palette. No matter the accompaniment, John Darnielle will always take center stage.
Highlights: "Sarcofago Live" "Satanic Messiah"
"Gojam Province 1968"