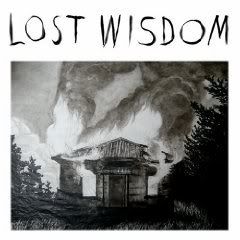 This, as the saying goes, is what you've been waiting for. Following his retirement of the Microphones banner in 2003, acoustic lo-fi mainstay Phil Elverum adopted the Mount Eerie moniker (which happened to be the name of the last Microphones record) and lazily (but persistently) released a glut of music, none of which could touch the fragile beauty of the last three proper Microphones records, and in particular the landmark
The Glow Pt 2
from 2001. His odd release patterns and impractical format choices (
Mount Eerie Pts 6 & 7
was released with a massive picture book) rewarded only the most devout of fans. It wasn't until this year that Elverum adopted a modicum of modesty and released a strong comeback EP entitled
Black Wooden Ceiling Opening
, which recast a number of old Mount Eerie tunes into even darker shades than in their original incarnations (he even referred to it as his black metal album). And judging by his new record
Lost Wisdom
, Elverum hasn't slowed down on the release front, which follows hot-on-the-heels of
Black Wooden Ceiling Opening
, but thankfully clocks in at a lean 24 minutes.
Lost Wisdom
opens up Elverum's sound considerably, although in ways you wouldn't usually associate with that descriptor. This mini album is a collaborative effort between Elverum and Julie Doiron (of the great Eric's Trip) and guitarist Fred Squire. Despite the added personnel,
Lost Wisdom
may be Elverum's most sparse and haunting collection to date, as it features nothing more than two guitars (one acoustic, one electric) and two voices (those of Elverum and Doiron). As with
Black Wooden Ceiling Opening
, a couple of these songs have appeared on prior Elverum releases, and a couple are even said to appear in different form on the next Mount Eerie LP, but this doesn't take away from the magic that these three seemed to have captured as if by accident. This is a loose recording, played live in the studio, with little if any post production work, and the intimate feel of the voices coupled with the thin hum of tape hiss give
Lost Wisdom
the unique atmosphere of happening upon some distant voices in an uninhabited forest.
The opening 3 song set is among the strongest Elverum work since his Microphones days, as each hushed duet takes on an heart-warming life of it's own ("Voice in Headphones" even nonchalantly appropriates the chorus of Bjork's "Undo"). As the titles would suggest, "Who?" and "What?" are near mirror images of each other, as Doiron and Elverum each respectively take a lead vocal to document a life with and without a lover's touch. Penultimate track "O My Heart" provides appropriate climax for a record that is sometimes painfully honest with emotions, a far cry from Elverum's usual fascination with the elements. With only ten tracks clocking in at 24 minutes, there is little reason to pick apart tracks, but even still, "Flaming Home" and closer "Grave Robbers", while equaling the other tracks in sheer beauty, don't quite feature the same enticing melodies as the best moments here do. What
Lost Wisdom
as a whole has done however, is reestablish Phil Elverum as an important voice in modern folk. For the first time in years, I can say that I am genuinely excited about what he will do next.
Highlights: "Lost Wisdom", "You San Go On", "With My Hands Out", "O My Heart"
"Voice in Headphones"
"Who?"