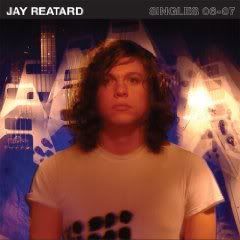 Jay Reatard eats, sleeps and bleeds punk rock. His adherence to the genre is evident in every note he strikes on his Flying V guitar, but it's not only manifest in his sound and aesthetic, but also in his loyalty the singles format and it's inherit small-run distribution. This conscious decision to remain true to the past belies that fact that he released one of the best pure rock records of the last few years with 2006s
Blood Visions
. The only real knock you could make against that record was it's uniformity - it often sounded like nothing more than simple variations on the same 2-3 chords, repeated ad infinitum and played furiously for 13 tracks with nary a pause. It was through his singles though that Jay has been allowed to spread his wings into the not-so-punk territory of acoustic guitars and jangle pop. For those of you who had Jay pinned as nothing more than a couple of chords and a faux British accent, then his two recent singles collections are examples number 1 & 2 that this punk-bred three piece have more ideas and better ways to carry them out than most bands of their ilk.
Jay's two year run of singles for the In the Red label were collected earlier this summer as the band's final release for the label, and seeing as how
Singles '06-'07
covers the same period in which the band wrote and recorded most of
Blood Visions
, it should come as no surprise that this particular compilation includes various demos and unreleased versions of tracks that wound up on the full length. The core sound of
'06-'07
doesn't vary much from Jay's well established sound either, as a majority of these tracks fall in line with the band's core influences of late 70s British punks such as The Damned, The Buzzcocks and Wire. "Night of Broken Glass", "Feeling Blank Again", "Don't Let Him Come Back" and "Let It All Go", are all top tier Jay Reatard tracks, their simple melodies and infectious energy working together to form wonderful approximations of classic punk rock. Considering a quarter of this compilation is made up of
Blood Visions
demos though causes me to rank this slightly below it's parent album, but the quality on display throughout is frequently astonishing.
Earlier this year Jay and his band made the jump to indie powerhouse Matador Records, and credit must be given to the label for allowing Jay to work within his preferred format, as he released a series of six 7" singles over the course of six months. Thankfully Matador has made these stellar singles more readily available to those listeners who aren't crate diggers with the similarly titled
Matador Singles '08
. This is the collection where the growth of Jay Reatard is on full display, as a few of these tracks throw in acoustic guitars and bring to mind bands who were punk in spirit yet anything but in sound, such as The Clean and The Soft Boys. What's even more special about these Matador singles though, is that the easily recognizable punk sound of the band is ironed out and presented in probably it's most impressive state thus far. Songs such as the fantastic opener "See/Saw", the hugely melodic "An Ugly Death" and the self-explanatory "You Mean Nothing to Me" all feature the typical verse-chorus-verse mayhem of prime Jay Reatard, but also add in some nifty bridges and counter hooks to make these songs feels much more epic than they appear to be.
It is with their last and most recent 7" though, the "No Time b/w You Were Sleeping" single, that Jay will leave you with the nagging question about where this band will go next. These two songs (in addition to the closing bonus track "I'm Watching You") are built primarily around the acoustic guitar and bear little in common with the frantic 2 minute punk blasts that the band made their name on. The A-side is probably the highlight of
Singles '08
, and is probably the closest these guys have come to a proper ballad. The only real blemish on this collection is the overlong and overly faithful cover of Deerhunter's luminescent "Fluorescent Grey". Beyond that though, there is nothing but direct hit after direct hit. The young, flamboyant punk in Jay Reatard may or may not have run its course, but as these 3 years of frighteningly consistent singles proves, there are very few artists as dedicated to the form as Jay Reatard.
Highlights: "Night of Broken Glass", "Hammer I Miss You", "Let It All Go", "See/Saw", "An Ugly Death", "No Time"
RIYL: King Khan, Mark Sultan, The Black Lips, The Damned, The Buzzcocks
"Night of Broken Glass"
"Don't Let Him Come Back"
"See/Saw"