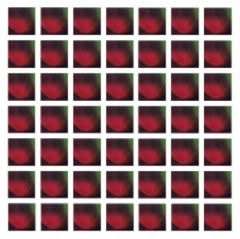 Where does a band go after something as fantastically disorienting and out-of-left-field as
Ta Det Lungt
? If you're Swedish psych-rock outfit Dungen, you reconcile you wildest tendencies and release a decent follow-up in the form of last year's
Tio Bitar
. I guess you could say that there was only so much Gustav Ejstes could do on his own and go ahead and give him the benefit of the doubt. I mean, he's recorded nearly all of the prior Dungen material all by himself (with just slight guitar assistance from Reine Fiske on
Tio Bitar
), and his one-man band arrangements may have just simply hit a wall. For his fourth record,
4
(natch), he has wisely enlisted a number of Dungen's touring musicians to help pick up the slack in the studio, and the resulting record is appropriately loose and lively.
What hampered
Tio Bitar
wasn't necessarily the sound of the record, but it's lack of any standout songs.
4
remedies this situation with "Det Tar Tid", Dungen's most gloriously catchy song since
Ta Det Lungt's
duel-standouts "Panda" and "Festival".
4
opener "Sätt Att Se" nearly matches "De Tar Tid" as it rides in on a jaunty violin line and sways comfortably between folk and psych-rock poles.
4
generally stays in this middle ground and is by some distance Dungen's most restrained effort to date, yet that doesn't mean there isn't room for some of the old feedback, which two-part suite "Samtidigt 1 & 2" amply provide. And lest we forget, Ejstes, who focuses mainly on piano this time around, still has those killer pipes, which despite being in Swedish still carry the best of these songs over the top.
4
does fall into a somewhat particular pattern of vocal track-instrumental-vocal track, but in a nice change of pace (at least compared to
Tio Bitar
), a majority of these instrumentals do occasionally standout from the crowd. So I guess it's a good thing that
4
leaves the listener wanting more - more noise, more vocals, more left-turns - but if for no other reason than future returns, the record seems to have breathed a little life back in Ejstes.
4
ultimately may be a transition record, but the crumbs of psych-goodness Dungen have laid here is enough to keep hopes reasonably high.
Highlights: "Det Tar Tid", "Sätt Att Se"
"Sätt Att Se"