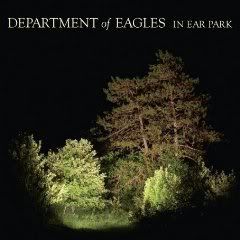 This review is featured at
Music In Review Online
There is no way I can definitively prove the following statement, but I think it is safe to assume that if it weren't for Grizzly Bear's breakthrough record
Yellow House
, there wouldn't have even been another Department of Eagles album. It's a two way street though, because if
Yellow House
weren't such a creative leap forward for both Ed Droste and Daniel Rossen, then the new Department of Eagles record,
In Ear Park
, probably wouldn't be a strong as it is. To be clear, Daniel Rossen's Department of Eagles - a five piece band including both Grizzly Bear's Chris Taylor & Chris Bear - was actually around before Grizzly Bear, so it's not exactly fair to call it a side project, but you'd be forgiven for making the mistake.
In fact, the sound of
In Ear Park
isn't too far removed from Grizzly Bear, as it kind of splits the difference between the subtle folk songs of
Yellow House
and the slow burning rockers on the
Friend
EP, with a little late 60s So Cal pop thrown in for flavor. The lead-off title track is cushioned on a bed of intricately plucked acoustic guitar that sounds like James Blackshaw traded in his twelve string guitar for a six string, while "Around the Bay, "Floating on the Lehigh" and hypnotic closer "Balmy Night" all play coy with the listener, asking them to give themselves over to the hidden beauty stitched into the fabric of each of these numbers. The more immediate tracks, such as the Lennon-esque "Teenagers" and the slim and direct "No One Does It Like You", provide easy access for those unfamiliar with Grizzly Bear, and it's with these tracks that Rossen really infuses this project with an identity of their own.
On the whole though,
In Ear Park
is an earthier and more modest affair than recent Grizzly Bear material, despite the fact that both "Phantom Other" and "Waves of Rye" would have made better inclusions on
Friend
then that slew of questionable remixes that padded that release. This is music that reveals itself slowly and over time - casual listeners need not apply. These are quietly labyrinth arrangements that Rossen has constructed here, and he rarely confines himself to verse-chorus-verse structures. Meanwhile, his band provides a sturdy backdrop of strings, banjo and horns, weaving each together into a seamless whole but reigning in whatever showy tendencies they may have in favor of Rossen's fragile voice, which gives this record it's light and breezy feel.
In Ear Park
is surprising for a lot of reason - not least of which is that it's so strong as a complete listen - but the fact that it doesn't lower itself to holdover status until the next Grizzly Bear album proper really makes it feel important. Department of Eagles is it's own living breathing unit, and a unique and special one at that. They also happened to have unexpectedly dropped one of 2008s most pleasant surprises.
Highlights: "In Ear Park", "No One Does It Like You", "Teenagers", "Herringbone" "Floating on the Lehigh"
RIYL: Grizzly Bear, Akron/Family, Papercuts
"No One Doesn It Like You"
"Teenagers"
"Herringbone"