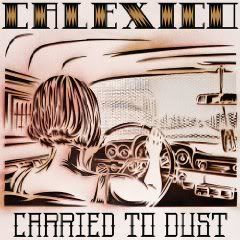 I came to Calexico a little later than most. My first exposure to the Southwestern folk-rockers was via their cover of Love's "Alone Again Or", which was later released on the 2004
Convict Pool
EP. This band had done something intriguing with their mix of mariachi horns and guitar twang though, taking on a song which I previously felt was all but untouchable and transforming it into something utterly unique and their own. As the years have gone by and I have further explored their back catalog, that particular cover choice doesn't seem quite as odd. In fact, it seems down right inevitable. "Alone Again Or", and early Love in general, isn't a bad comparison to a lot of what Calexico has done over the past ten years or so. "Victor's Jara's Hands", the opening song on Calexico's new record
Carried to Dust
, in particular sounds an awful lot like what you'd expect Arthur Lee to be doing had he lived to see 2008, with it's mix of Spanish and English vocals, a big, blaring horn part and an infectious wordless hook. Calexico reestablish their beloved ad-hoc mixture of Mexican & Southwestern sounds just seconds into
Carried to Dust
, signaling a slight return to their roots after the more indie rock oriented
Garden Ruin
from 2006.
Garden Ruin
alienated many long time Calexico fans, as band leaders Joey Burns and John Convertino seemed to be aiming for widespread acceptance as opposed to simply following their musical muse. Hindsight shines a nicer light on
Garden Ruin
, as I see the record more as a one off experiment (and a successful one at that) than a complete change of heart for the band. As a result,
Carried to Dust
kind of splits the difference, both in terms of aesthetics and quality, between the more indie friendly
Garden Ruin
and the eclectic platter that was
Feast of Wire
(2003). So it's a compendium album of sorts, but only a compendium of the best kind. Following "Victor's Jara's Hands",
Carried to Dust
segues into a run of some of the strongest Calexico material to date, with the light "Two Silver Trees", the swooning "News About William" and the buoyantly catchy "Writer's Minor Holiday" all standing out. These are all relatively subdued songs, as
Carried to Dust
feels like one of the more comfortable entries in the bands catalog, but a couple numbers bring a more rock fueled flavor, in particular "Man Made Lake" and it's feedback enhanced guitar bridge.
The guest list of
Carried to Dust
is impressive as well and should entice curious onlookers, as Iron & Wine's Sam Beam provides beautiful backing harmonies on "House of Valapraiso" and the inimitable John McEntire (Tortiose) shows up on ghostly closer "Contention City". A band as consistency wonderful as Calexico runs the risk of being taken for granted, and this band unfortunately carries a much heavier burden than many bands. They rarely show up on top ten lists despite widespread critical acclaim (and despite what I am tell you, this won't show up on my top ten either), while their fan base even seems to have become complacent with the fact that every few years another solid Calexico record will come down the pike. But that is neither here nor there, and fortunately for Calexico they carry their status confidently and without pretense. This is a band that will probably be better appreciated years after the fact, but I have no problem championing
Carried to Dust
in the here and now.
Highlights: "Victor Jara's Hands", "Two Silver Trees", "The News About William", "House of Valapraiso", "Red Blooms"
"Victor Jara's Hands"
"Two Silver Trees"