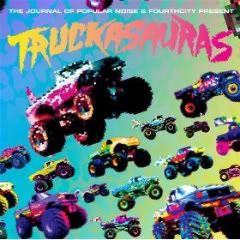 Stereo Sanctity Album of the Week
(August 31 - September 6, 2008)
In the field of electronic music, the re-contextualizing of old gear for new purposes is nothing new - in some cases it is expected, while some artists have actually made an entire career out of it. With that being said, it's been good long while since I've heard vintage gear shot-through with such a modern touch (and without drawing any attention to itself) as it does in the hands of Seattle's Truckasauras. Their early demos and basement shows made everyone from electro-pop fetishists to techno freaks to dancehall enthusiasts stand up and take note: no matter how goofy the name, how stupid the song titles, how ridonkuolous the videos (and now that album cover, yikes), Truckasauras are up to something very serious. With their debut album,
Tea Parties, Guns & Valor
, they've welded a mighty confluence of all the above genres (plus a few more for good measure) and come away sounding unlike pretty much anyone else out there.
Live and on record, Truckasauras stack a folding table's worth of vintage TR-808s, Commodore 64s, jerry-rigged effects pedals, tweaked-out gameboys and duct-taped megaphones into a small space, blaring their mini-anthems with a welcome sense of disregard. What belies this offhand nature is the band's attention to detail, which stashes amongst it's tech-head beeps and bloops a number of perfectly played samples, countless ear worm melodies, and most importantly, an overarching sense of real emotion. Now don't get me wrong, this isn't
Music Has The Right to Children
or anything, but when was the last time some Nintendocore band could make your heart swoon?
So if I had to compare Truckasauras to anyone, it would probably be Wham City! maestro Dan Deacon, who's own 8-bit electro squiggles can just as easily incite spontaneous dancing, despite the fact that many of the elements on display are not easily digestible on their own. Yet not even Deacon plays with a sense of melancholy like Truckasaurus do.
Tea Parties, Guns & Valor
is the rare album that can work equally well on the dancefloor as it can on headphones (I'd argue that it is even more impressive in quiet solitude), but no matter it's classification, this is one of the season's most special records.
Highlights: "Fak!!!", "Angels Sound Like Bottle Rockets", "Super Copter", "Porkwich"
RIYL: Dan Deacon, Dan Friel's
Ghost Town
Video: "Fak!!!"
"Super Copter"
"Angels Sound Like Bottle Rockets"