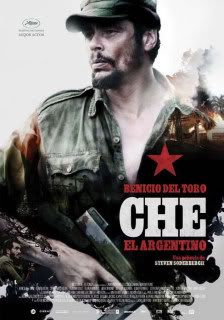 UPDATE 9/9/08: IFC apparently has sidestepped Magnolia and taken over distribution for Che. This couldn't be any more confusing, but this looks to be the final stop for Soderbergh's long forthcoming bio-pic (via the NY Post).
UPDATE 9/5/08:
Looks like
Magnolia Pictures will have a hand in the US distribution. Personally, I fully support any company willing to take this film on (from
Incontention
via the NY Post).
Now here's some great Labor Day news. Steven Soderbergh's wildly anticipated (at least around these parts) Che Guevara bio-pic has finally found distribution via Wild Bunch. Variety's Anne Thompson
broke the news
. Wild Bunch's Vincent Maraval clears up the burning split-release question:
"The film has been done to be exploited in two parts. We did that screening of the two films together only for Cannes. The idea is to release them separately. But Steven would like for the US to have a small exploitation of the film as one film," Maraval said.





It now looks likely that the long version of Che that screened in Cannes will initially be road-showed in the US, although it remains to be seen how wide this release will be. "My position is to do two cities maximum. The position of the distributor and Steven is to do many more cities."




The two cities he speaks of are probably New York and L.A., but no matter the release pattern, if this film is screen in 2008, Benicio Del Toro is all but guarantee an Oscar nod.
If you'll recall
, Del Toro took home the lead acting prize earlier this year at Cannes, where Soderbergh debuted his 4 hour rough cut of the film. I will adjust the "Race for the Prize" charts accordingly after the TIFF and Venice barrage subsides. Until then, slaviate at that
early trailer
some more.