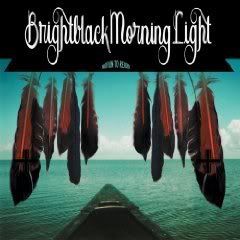 Stereo Sanctity Album of the Week
(September 28 - October 04, 2008)

It's almost too easy to write Brightblack Morning Light off as mindless hippie drivel. This is a band whose debut album was sheathed in a 100% recycled material digi-pack, who name their songs things like "Star Blanket River Child" and who unironically encourage fans to bring crystals to their live shows. Add to that the fact that their hypnotic new record, Motion to Rejoin, was recorded with four solar panels "around rural herbal tents", and you'd be more than forgiven for distancing yourself from this duo's slow-motion, bloodshot psychedelic folk excursions. The thing is, these attributes and techniques come from two people who literally live this life of tent dwelling and rainbow watching. The accompanying music then, which seems to simply pour from the (no doubt altered) minds of Rachael Hughes and Naybob Shineywater, is a genuine attempt at conjuring some lost civilization where technology is nonexistent and buffalo roam freely amongst the indigenous people. It's strikingly original stuff, and even if their lifestyle and outlook seem almost naive in this day and age, it's almost equally impossible not to get caught up the music's sleepy grooves and comatose drift.
After a brief introduction, "Hologram Buffalo" announces itself as most direct song the band has recorded to date, while at the same time not straying too far from their instantly recognizable concoction of Rhodes piano and flickering, reverb drenched guitar. So their is incremental growth on display between Motion and the self-titled, although both records feel cut from the same hand woven cloth. This is music that takes multiple listens to fully absorb, and on casual listens can yield very little, if anything substantial at all. After prolonged exposure, songs and melodies begin to differentiate themselves. Guest backup singers Ann and Regina McCrary lend "Gathered Years" a gospel vibe, while trombone and clarinet saxophone color sporadic moments of others songs, particularly centerpiece "A Rainbow Aims".
Brightblack Morning Light is still a band in no hurry to go anywhere. This is a 9 song, nearly 50 minute record with very little dynamic range but with enough narcotic guitar lines and entrancing beds of organ interplay to transport listeners by sheer will (no drugs required, although I'm sure they wouldn't hurt). Comparing Motion to Rejoin with it's predecessor is dead end discussion, as this feels like the perfect continuation of a already fully formed sound. Motion may be a little looser, a bit more funky, but never anything other than Brightblack Morning Light. With a sound this particular, there was never really a reason to change things up too dramatically, and with Motion to Rejoin - sure to be one of the autumn month's best records - Brightblack Morning Light have quietly and unassumingly unleashed another haunting collection of sleep deprived psychedelic blues.
Highlights: "Hologram Buffalo", "Oppressions Each", "A Rainbow Aims", "Past a Weatherbeaten Fencepost"
"Hologram Buffalo"
"Oppressions Each"
"Gathered Years"