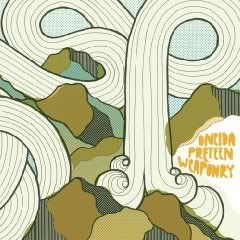 The first installment in the proposed
Thank Your Parents
trilogy from Brooklyn's Oneida,
Preteen Weaponry
can be described easily and distinctly as a single three-part, 45 minute (mostly) instrumental track. Not many bands can get away with such pretension in this day and age, but not only can Oneida pull it off, they are one of the few that can succeed wonderfully at it. Everything this 3-piece has dabbled with in the past is on display here, from kraut grooves to psych-ramblings to free-squall. Perfectly paced and meticulously executed,
Preteen Weaponry
runs the Oneida gamut, ebbing and flowing through three distinct sections while staying firmly anchored to the band's core sound.
As on every Oneida recording, drummer Kid Millions is absolutely on fire here, hitting everywhere but the pocket on "Part 1" while laying down a heavy martial beat throughout the entirety of "Part II", only to reawaken for the clipped crashes of "Part III". The upcoming second entry in the series (due early next year) is reportedly a 3-disc set, which helps put
Preteen Weaponry
in an initial sort of context. This is a band that had grown a little stagnant coming into '08, following the release of the solid, if a little repetitive,
Happy New Year
from the year prior. They are clearly working with a sense of purpose here though, and if
Preteen Weaponry
is just a taste of what's to come, then we have a lot look forward to.
RIYL: Parts and Labor, Liars, Gang Gang Dance, Lightning Bolt
Myspace - Oneida