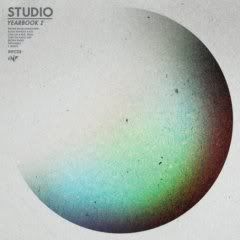 Stereo Sanctity Album of the Week
(June 29 - July 5, 2008)
The Swedish Balearic-disco duo behind last year's epic
Yearbook 1
(Stereo Sanctity's
#25 Album of 2007
) return with an equally epic remix disc entitled simply,
Yearbook 2
. Studio take on predictable (A Mountain of One) and unpredictable (Kylie Minogue) source material in equal measure on
Yearbook 2
, parsing familiar fragments from each while grafting them onto their instantly recognizable expanse of drifting acoustic guitars and island-breeze beats. Studio have never been known for their concision, and
Yearbook 2
is no different, as the 7 tracks here stretch well past the one-hour mark (most hover around 10 minutes in length). Their hypnotic grooves are their defining characteristic though, and at no moment on
Yearbook 2
do things grow overly tedious, even as melodies stretch interminably through ultra-subtle dynamic variations.
The New Order-ish vibe from
Yearbook 1's
shorter tracks is nowhere to be found here, as the vocals are given over solely to the source material's original voices. So there's Kylie singing "2 Hearts" and Adam Olenius of the Shout Out Louds doing "Impossible", both over the gentle, minimalist beat structures and dreamy clouds of synth that Studio effortlessly lay down. They even somehow remix a cover, as they reinterpret Williams' take on Tangerine Dream's "Love on Real Train", resulting in something even more celestial than either previous version could manage. There's nothing here that can match
Yearbook 1's
"Out There" or "Life's a Beach", yet expecting such from a remix album would be foolish. What they are left with then is a blissfully chilled-out, wonderfully paced and fully realized collection of songs that almost always outshine their predecessors while ultimately registering more as great Studio tunes than interesting readings of already successful songs.
Highlights: "Brown Piano (Remake by Studio)", "Impossible (Possible Version by Studio) ", "Room Without A Key (Version by Studio)", "Love On A Real Train (Version by Studio)"
RIYL: Tangerine Dream, Manuel Göttsching, Air France, A Mountain of One
"Brown Piano (Remake by Studio)" - A Mountain of One
"Love On A Real Train (Version by Studio)" - Williams (Tangerine Dream Cover)