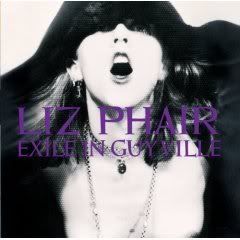 The girl-power record of all time turns 15 this year, and to celebrate, ATO Records has remastered and reissued the long out-of-print 1993 classic, appending 3 B-sides and a bonus DVD featuring interviews with Chicago scene veterans who witnessed first-hand the young Liz Phair explode onto an inbred, male dominated scene from seemingly nowhere. The quality of the album warrants little discussion at this point (that's better saved for every record that followed), as
Exile in Guyville
is still a wall-to-wall masterpiece. It's everything you remember it to be: feminist document, break-up record, song-by-song reply to
Exile on Main Street
, and a record full of diary-sharp and sexually raw lyrics delivered with that defiant F'you attitude. Besides opening up avenues for countless female indie artists,
Exile
dared to play rough with the boys, and 18 out of 18 times, it came out on top.
Considering the breadth of
Exile
(18 songs in an hour), it isn't surprising to find the well a little dry with regards to rarities from the period. Of the three B-sides, one is the acoustic cult fave "Ant in Alaska" while the other two are interesting but inconsequential doodles (one of which is instrumental). The DVD is a rare treasure however. Directed by Phair herself,
Guyville Redux
features interviews with Chicago stalwarts Steve Albini, Urge Overkill, John Cusack, Gerard Cosloy, Brad Wood and, uhhh, Dave Matthews (gotta give him props for reissuing this on his label though).
Redux
clocks in at well over an hour and is home to many amusing anecdotes and some good background info on Phair's discovery by Matador Records and her early Girly Sound project. I for one can do without a lot of tacked on bonus material that pad out most reissues, so this DVD was a real treat. The original
Exile in Guyville
is still where it's at though. 15 years later and it hasn't aged a day.
Video: Liz Phair - "Never Said"
Guyville Redux Trailer