In a typically out of nowhere win, France's
The Class
has taken top honors at this year's Cannes Film Festival. Many felt the race was down to Steven Soderbergh's 4-hour
Che
rough-cut, Clint Eastwood's
The Exchange
(formerly
Changeling
) or
Three Monkeys
, the latter of which ended up taking home the directing prize for Turkish-born director Nuri Bilge Ceylan.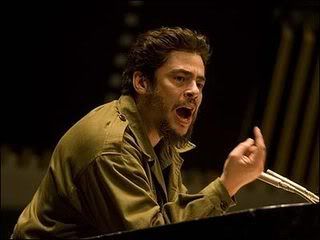 Unsurprisingly, top acting honors went to Benicio Del Toro (above) for his portrayal of Cuban revolutionary Che Guevara in the aforementioned
Che
(no word yet on whether Soderbergh is going to split the films in two like originally intended). He looks to be on his way to a sure Oscar nod. However, as much as I love Cannes, the top winners usually don't translate over to Oscar success. Last year's Palm D'or winner,
The Wind That Shakes the Barley
, barely made a dent anywhere outside of critics, while Gus Van Sant's great
Paranoid Park
, the winner of the '07 60th Anniversary Prize, had a small U.S. run of mild acclaim earlier this year.
Here's the list of this year's top winners:
Palm D'or:
The Class
, directed by Laurent Cantet
Grand Prize:
Gommorah
, directed by Matteo Garrone
Best Director:
Nuri Bilge Ceylan for
Three Monkeys
Best Actor:
Benicio Del Toro for
Che
Best Actress:
Sandra Corveloni for
Linha de Passe