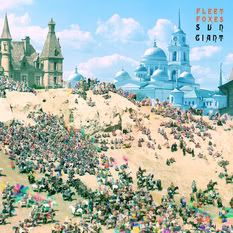 The debut EP from the Seattle-based, gospel-inspired psych-pop quintet Fleet Foxes is a masterful study in restraint and subdued beauty, in which lead Fox Robin Pecknold floats harmoniously above a sea of southern rock and classic folk signifiers. From the near-acapella opening title track on through to the majestic "Innocent Son", this frighteningly talented young band shows a respect for genre and a desire to transcend that is well beyond their cumulative years.
Sun Giant
marks the momentous arrival of a new, exciting musical force. When the year is written, it may very well turn out to be of
Young Liars
-sized importance. (stream the entire EP below while you still can)
Highlights: "Sun Giant", "Drops in the River", "Mykonos"
RIYL: My Morning Jacket, Band of Horses, Cowboy Junkies, Califone
"Sun Giant"
"Drops in the River"
"English House"
"Mykonos"
"Innocent Son"
Myspace - Fleet Foxes