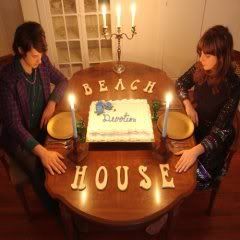 This enchanting follow-up to Beach House's out-of-left-field 2006 debut is yet another hypnotic convergence of humming organ/keyboard drones and snail-paced guitar slides. The initial shock of hearing the floating ethereality of this bands sound is obviously lost here, but song for song this may be a stronger record than the self-titled. Features 10 beautiful originals among a reverent reading of Daniel Johnston's "Some Things Last a Long Time".
Highlights: "Gila", "Turtle Island", "All of the Years", "Heart of Chambers"
RIYL: Galaxie 500, Cocteau Twins, Mazzy Star, The Clientele, Slowdive, Spiritualized
Video - "Heart of Chambers'
Video - "You Came to Me"
Myspace - Beach House