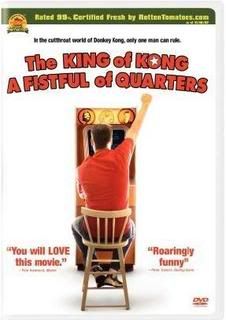 I've spoken at length here at Stereo Sanctity about the brilliance of Seth Gordon's competitive Donkey Kong documentary
The King of Kong
, donning it with a 4-star rating upon it's
initial release
and subsequently placing it on my list of the
Top 10 Films of 2007
. I've now seen the film four times and it does nothing but get better with each subsequent viewing, prompting that extra half-star you see above. This is the best documentary to see release since
Grizzly Man
, and one of the great non-fiction films of the decade so far. But that's enough raving, let's break down the DVD.
First, there are two great audio commentary tracks included here, one by director Gordon and producers Ed Cunningham, J. Clay Tweel and Luis Lopez, and a second (very funny) one from Chris Carle of IGN and Jon Gibson of
I Am 8-Bit
. The main attraction of the DVD though is an extensive extended interview archive, featuring nearly all of the film's participants. Each additional interview (or in some cases, mini-profiles) lends even deeper insight into both of the film's main characters, as well as to the entire unbelievable world of competitive gaming and it's many personalities. Add to this an animated short, an arcade glossary and an
I Am 8-Bit
Music & Art Gallery, and you have a very thorough single-disc DVD. It usually takes quite a bit to entice people to buy documentaries on DVD, but with
The King of Kong
, the studio has done a fantastic job of gathering loads of interesting material, some of which is as fascinating, if not more so, than the elements of an already great film.