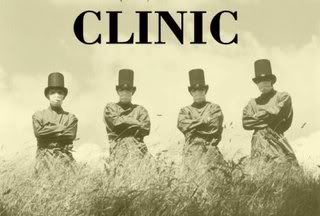 The UK maniacs known as Clinic return in '08 with yet another highly anticipated record, this time entitled (rather poetically),
Do It
. The record's first single "Free Not Free" is currently available for - what do ya know -
free
download from the band's website. The download includes the A-side single along with the B-side "Thor" and the accompanying artwork.
Clinic are one of the more interesting bands of the new millennium, exploding onto the scene back in 2001 with the amazing
Internal Wrangler
, still one of the decade's great musical accomplishments. Everything they have done since then has been rather hit and miss however - nothing outright bad mind you, but in light of their debut, somewhat disappointing. Based on this single though, I have a good feeling about
Do It
. Here's to hoping they regain their form this time around.
Download: Clinic - "Free Not Free" b/w "Thor"
Or check out the hallucinogenic video: