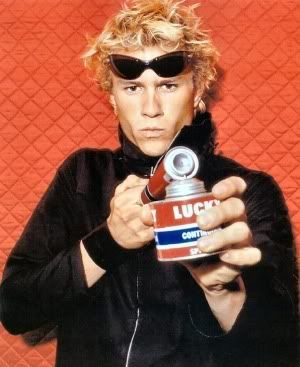 I'll be completely honest, prior to 2005, I didn't think much of Heath Ledger as an actor. However, he had a nice role in
Monster's Ball
in 2001, which held immense promise, so I kept an eye on him. It wasn't until he landed the career defining role of Ennis Del Mar in Ang Lee's stellar
Brokeback Mountain
that his career began to take shape. Of course, now that history has been written, and Ledger's performance in that film has been compared to everyone from Sean Penn to Marlon Brando (and rightfully so, as it still stands as one of the decade's great feats of acting), it is easy to see the film as a turning point in not only his career, but in his mindset.
Each film that has followed has been of the utmost competency of integrity. And while
Casanova
and
Candy
left something to be desired as stand alone films, Ledger excelled in both, particularly in the latter where he portrayed a heroin addicted poet. Last year he turned in one of the best males performances in Todd Haynes' brilliant
I'm Not There
, while his upcoming turn as the joker in Christopher Nolan's
The Dark Knight
, was, to say the least, one of the year's most anticipated performances. As the curtain falls on Ledger's short but impressive career, now seems as good a time as ever to revisit some of the man's most memorable moments. RIP.
I'm Not There
("I Want You" montage)
The Dark Knight
trailer
Brokeback Mountain
(final encounter)