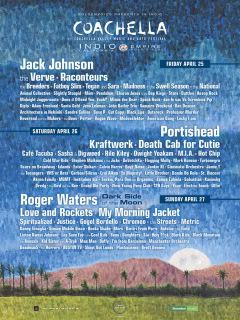 This was released on Monday, but I thought it had to be joke, so I held off on posting it. I mean, Jack Johnson? Has it really come to this? And no disrespect at all to Roger Waters, as Pink Floyd will forever be one of my favorite bands, but c'mon, there is no
Dark Side of the Moon
without the other band members, or at least Dave Gilmour.
On the other hand Portishead was a great pull. Who knows when the last time they played the US was (I'm guess close to 10 years ago maybe)? But the only time a Portishead reunion show could possibly be anti-climatic is when everyone was expecting a
My Bloody Valentine reunion
instead.
I would also never complain about Kraftwerk, but they headlined not too many years ago, right? It all just seems very by-the-numbers this year. That's not to take anything away from all the other great young bands playing, but the headliners are just so much weaker than usual. A few of the under card highlights are the Breeders (who let's be serious, should really be headlining the first night. This is an indie-rock fest, right?), Animal Collective, Battles, The National, Mum, Jens Lekman, Dan Deacon, Stephen Malkmus, Islands, Bonde De Role, Akron/Family, New Young Pony Club, Spiritualized, Les Savy Fav, Man Man and I'm From Barcelona.
And just my luck, it figures that a watered down lineup would emerge the very year I received a free 3 day pass. I'm looking to sell it cheap if anyone is interested.