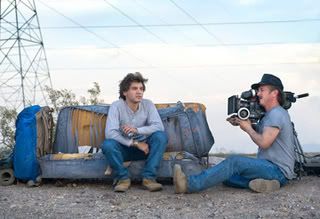 I have been really lagging on the awards race this week, what with all my personal Best-of lists being formulated as we speak, but the BFCA & the HFPA both announced their nominees this week, with little if anything to get too concerned or excited about. The biggest thing that stuck out to me was the disconnect between the love from the BFCA for
Into the Wild
(it led with 7 nods) and the film's near snubbing from the Globes (it petered out with just 2).
The Globes on the whole were pretty ridiculous though, as they continue to cement their reputations are the biggest set of Hollywood whores in all the land. They couldn't resist undeserved nods for Julia Roberts or
The Great Debaters
, and the John Travolta nod is typical HFPA red carpet eye candy. And although there were 7 nominees for Best Pic at the Globes this year (a tie occurred I'm assuming), it is important to note the impact
There Will Be Blood
is having on this year's awards race, having picked up a slew of accolades over the last 2 weeks in addition to nods from both these organizations.
Sweeney Todd
is showing up in just enough places to keep it in contention, while
The Kite Runner
seems to gasping for air despite it's Critics Choice Top 10 spot. And then there is
The Diving Bell and the Butterfly
, which is very quietly accruing an impressive collection of awards and nominations for both the film and it's director Julian Schnabel. Like last time, there won't be an actual "Race for the Prize" column this week, but I am updating the sidebar nominee predictions to account for last week's bevy of nominations and critics awards.
In case you missed them,
The 2007 Golden Globe Nominees:


Best Motion Picture - Drama
American Gangster
Atonement
Eastern Promises
The Great Debaters
Michael Clayton
No Country for Old Men
There Will Be Blood
Best Actress - Drama
Cate Blanchett - Elizabeth: The Golden Age
Julie Christie - Away From Her
Jodie Foster - The Brave One
Angelina Jolie - A Mighty Heart
Keira Knightley - Atonement
Best Actor - Drama
George Clooney - Michael Clayton
Daniel Lewis - There Will Be Blood
James McAvoy - Atonement
Viggo Mortensen - Eastern Promises
Denzel Washington - American Gangster
Best Motion Picture - Musical Or Comedy
Across The Universe
Charlie Wilson's War
Hairspray
Juno
Sweeney Todd
Best Actress - Musical or Comedy
Amy Adams - Enchanted
Nikki Blonsky - Hairspray
Helena Bonham Carter - Sweeney Todd
Marion Cotillard - La Vie En Rose
Ellen Page - Juno
Best Actor - Musical Or Comedy
Johnny Depp - Sweeney Todd
Ryan Gosling - Lars and the Real Girl
Tom Hanks - Charlie Wilson's War
Philip Seymour Hoffman - The Savages
John C. Reilly - Walk Hard: The Dewey Cox Story
Best Supporting Actor
Casey Affleck - The Assassination of Jesse James by the Coward Robert Ford
Javier Bardem - No Country for Old Men
Philip Seymour Hoffman - Charlie Wilson's War
John Travolta - Hairspray
Tom Wilkinson - Michael Clayton
Best Supporting Actress
Cate Blanchett - I'm Not There
Saoirse Ronan - Atonement
Julia Roberts - Charlie Wilson's War
Amy Ryan - Gone Baby Gone
Tilda Swinton - Michael Clayton
Best Director
Tim Burton - Sweeney Todd
Joel and Ethan Coen - No Country for Old Men
Julian Schnabel - The Diving Bell and the Butterfly
Ridley Scott - American Gangster
Joe Wright - Atonement
Best Screenplay
Diablo Cody - Juno
Joel Coen & Ethan Coen - No Country for Old Men
Christopher Hampton - Atonement
Ronald Harwood - The Diving Bell & the Butterfly
Aaron Sorkin - Charlie Wilson's War
Best Foreign Language Film
4 Months, 3 Weeks And 2 Days (Romania)
The Diving Bell And The Butterfly (France, United States)
The Kite Runner (United States)
Lust, Caution (Taiwan)
Persepolis (France)
Best Animated Feature Film
Bee Movie
Ratatouille
The Simpsons Movie
Best Original Score
Into the Wild
Grace is Gone
The Kite Runner
Atonement
Eastern Promises
Best Original Song
"Despedida" - Love in the Time of Cholera
"Grace is Gone" - Grace is Gone
"Guaranteed" - Into the Wild
"That's How You Know" - Enchanted
"Walk Hard" - Walk Hard: The Dewey Cox Story
And the Critics Choice Nominees are:
Best Picture
American Gangster
Atonement
The Diving Bell and the Butterfly
Into the Wild
Juno
The Kite Runner
Michael Clayton
No Country for Old Men
Sweeney Todd
There Will Be Blood
Best Actor
George Clooney - Michael Clayton
Daniel Day-Lewis - There Will Be Blood
Johnny Depp - Sweeney Todd
Ryan Gosling - Lars and the Real Girl
Emile Hirsch - Into the Wild
Viggo Mortensen - Eastern Promises
Best Actress
Amy Adams - Enchanted
Cate Blanchett - Elizabeth: The Golden Age
Julie Christie - La Vie en Rose
Angelina Jolie - A Mighty Heart
Ellen Page - Juno
Best Supporting Actor
Casey Affleck - The Assassination of Jesse James by the Coward Robert Ford
Javier Bardem - No Country for Old Men
Philip Seymour Hoffman - Charlie Wilson's War
Hal Holbrook - Into the Wild
Tom Wilkinson - Michael Clayton
Best Supporting Actress
Cate Blanchett - I'm Not There
Catherine Keener - Into the Wild
Vanessa Redgrave - Atonement
Amy Ryan - Gone Baby Gone
Tilda Swinton - Michael Clayton
Best Acting Ensemble
Hairspray
Juno
No Country for Old Men
Sweeney Todd
Gone Baby Gone
Before the Devil Knows You're Dead
Best Director
Tim Burton - Sweeney Todd
Joel Coen and Ethan Coen - No Country for Old Men
Sidney Lumet - Before the Devil Knows You're Dead
Sean Penn - Into the Wild
Julian Schnabel - The Diving Bell and the Butterfly
Joe Wright - Atonement
Best Writer
Diablo Cody - Juno
Joel Coen and Ethan Coen - No Country for Old Men
Tony Gilroy - Michael Clayton
Nancy Oliver - Lars and the Real Girl
Sean Penn - Into the Wild
Aaron Sorkin - Charlie Wilson's War
Best Animated Feature
Bee Movie
Beowulf
Persepolis
Ratatouille
The Simpsons Movie
Best Young Actor
Michael Cera - Juno
Michael Cera - Superbad
Freddie Highmore - August Rush
Ahmad Khan Mahmoodzada - The Kite Runner
Edward Sanders - Sweeney Todd
Best Young Actress
Nikki Blonsky - Hairspray
Dakota Blue Richards - The Golden Compass
AnnaSophia Robb - Bridge to Terabithia
Saoirse Ronan - Atonement
Best Comedy Movie
Dan in Real Life
Hairspray
Juno
Knocked Up
Superbad
Best Family Film
August Rush
Enchanted
The Golden Compass
Hairspray
Harry Potter and the Order of the Phoenix
Best Picture Made for Television
The Company
Bury My Heart at Wounded Knee
Tin Man
The War
Best Foreign Language Film
The Diving Bell and the Butterfly
4 Months, 3 Weeks, and 2 Days
La Vie en Rose
Lust, Caution
The Orphanage
Best Song
"Come So Far", Queen Latifah, Nikki Blonsky, Zac Efron, Elijah Kelley - Hairspray
"Do You Feel Me", Anthony Hamilton - American Gangster
"Falling Slowly", Glen Hansard and Marketa Irglova, Jesse L. Martin and Cast - Once
"That's How You Know", Amy Adams - Enchanted
Best Composer
Marco Beltrami - 3:10 to Yuma
Alexandre Desplat - Lust, Caution
Clint Eastwood - Grace Is Gone
Jonny Greenwood - There Will Be Blood
James Horner - The New World
Dario Marianelli - Atonement
Alan Menken - Enchanted
Best Documentary
Darfur Now
In the Shadow of the Moon
The King of Kong
No End In Sight
Sharkwater
Sicko