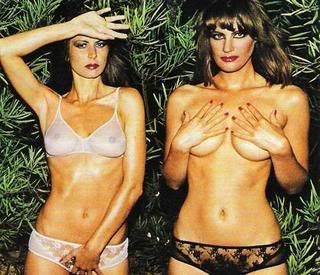 The first 3 Stereo Sanctity playlists have, for the most part, consisted of random selections of songs with no unifying theme (except that they all rule of course). I've forgone that method this time though and decided to group this 4th playlist under the banner of the experimental music scene of 1970s (just click that fat arrow in the side bar to play 'em all). Now certainly not everything on this playlist is avant or experimental, at least in the general sense - in fact, a few of the songs are downright poppy - but all these songs show, in their own unique ways, how 70s underground rock music (a blanket term I'll use to cover everything from electronic to punk to folk to kraut) helped shape the proceeding decades. If you're looking for progressivism in rock music, you need not look much further than the 1970s, or, as you'll come to see, Brian Eno.
Roxy Music - The Thrill of it All:
The sound of the Bryan Ferry led art-rock ensemble persevering without the services of founding member Brian Eno. The opening track off of their 1974 LP
Country Life
.
Brian Eno - Sombre Reptiles:
Speaking of Brian Eno, the glam-rock-icon-turned-ambient-electronic-producer took a full fledged plunge into electronic soundscapes with his classic 1975 record
Another Green World
, inspiring a future generation of musicians as diverse as David Bowie, Aphex Twin, Mouse on Mars and Squarepusher.
Tim Buckley - Starsailor:

The father and inspiration to the late great Jeff Buckley, whose life, like his father's before him, was cut tragically short. Unlike his son though, Tim took his music into the realms of the unknown, a technique most fully realized on his avant-folk masterpiece

Starsailor

. This is your brain on drugs.
Suicide - Frankie Teardrop:

A 10 minute, kaleidoscopic ride through hell with synth-rock icons Suicide as your guide. Do not play this for children.
Wire - Mr. Suit:

The minimal punk rock legends redefined concision on their landmark debut LP

Pink Flag

. "Mr. Suit" is just one of 22 perfect songs from that record.
Funkadelic - Maggot Brain:

It's just one long guitar solo sure, but it's also the best guitar solo ever committed to tape, period. Free your mind...
Throbbing Gristle - Discipline (Berlin):

The avant-industrial progenitors at their most confrontational. One of my favorite songs ever. From

20 Jazz Funk Greats

.
David Bowie - Art Decade:

Inspired by Brain Eno's work with electronic ambiance, Bowie retreated to Berlin to record three of the most influential records in music history. The first of which, 1977s

Low

(where "Art Decade" can be found), took Eno's ideas, added a pop veneer and perfected them, resulting in probably the best album in Bowie's formidable career.
Television - Venus:

The beloved garage rock band, led by the inimitable Tom Verlaine, released their opus,

Marquee Moon

, on an unsuspecting world back in 1977, forever altering the way the guitar is looked at. "Venus" is but one of the many absolutely searing statements from this, their debut record.
Faust - Lauft...Heisst Das Es Lauft Oder Es Kommt Bald...Lauft:

Faust coined the term Krautrock with their fourth record, the appropriately title

IV

, but it was "Lauft", which stripped their sound down to just acoustics, that left the deepest impression.
Swell Maps - Adventuring Into Basketry:

The oft-forgotten avant-noise troupe - whose leader, Nikki Sudden, sadly passed away last year - was given the much appreciated reissue treatment back in '04. "Adventuring Into Basketry" comes from the ear-bleeding 2nd side of their debut album

A Trip to Marineville

.
Neu! - Weissensee:

A slow, relaxing jam from Krautrock kings Neu!, a band just as likely to lull you to sleep as tear apart your ear canal. From their self titled debut.
Talking Heads - I Zimbra:

By the time of

Fear of Music

, Brian Eno had become an uncredited 5th member of the Talking Heads. Nowhere is his hand felt more than on "I Zimbra",

Fear's

triumphant opener, which combines West African polyrhythms with the Heads' usual brand of funk-punk and stirs it into a cauldron of tribal beats, chanting voices and awe-inspiring percussion flourishes.
Pink Floyd - Fearless:

Before they traveled to the dark side of the moon, Pink Floyd were just another space rock band with an affinity for side-long guitar freakouts.

Meddle

, the best of their early records, follows suit, leaving a number of shorter gems for side one. This is where you'll find "Fearless", one of Floyd's best and most calming songs.
Kraftwerk - Franz Shubert:

The electronic pioneers take you through industrialized Europe with the help of "Franz Shubert", the penultimate track from their genre defining masterwork

Trans-Europe Express

.


Previous Stereo Sanctity Playlists