Halloween came early to the City of Angels last night as three luminaries of the avant-rock scene took the stage in front of a jam-packed, extremely sold-out crowd at the Henry Fonda Theater. The bands seemed to be going all out, more than likely because the show was being filmed for "promotional purposes" (probably a tour DVD or something like that), but for whatever reason each artist seemed to be leaving it all on the stage (which itself was decorated with skeletons).
Top Photo: Eric Copeland (middle) with his band Black Dice
Eric Copeland, one of three members in Brooklyn electronic noise outfit Black Dice, took to the road recently behind his debut solo album

Hermaphrodite

. His solo work differs from his full time band's recent work in that Black Dice have moved towards a kind of fractured house approach whereas Copeland's tunes are far more drone-y, each tune drifting by on electronic blips and screeches, eventually building to extreme white noise climaxes. If anything, it is reminiscent of early Excepter (and that mind you, is a very good thing). His live show isn't much to look at though, seeing as how it is just one guy hunched behind a table of tangled chords and electronics noise makers. In fact, he never once looked up during the entire 1/2 hour set. When it comes to improvised noise though, you could do a lot worse.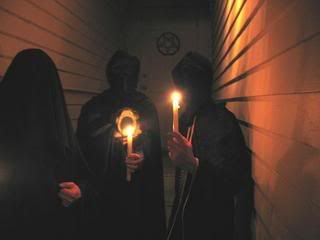 I apologize in advance for not having any picture of Wizard Prison, but you see, it's kind of difficult to take pictures in almost complete darkness. But it wouldn't really have mattered since this avant-rock three piece performs their entire show shielded behind a large projection screen, which they use to flash images of fire, decaying trees and unidentifiable (but undeniably sickly) images. Oh, and did I mention they do this dressed in black robes with skull masks on? Their music, a twisted mixture of abstract electronics and pysch-guitar noise, is harrowing as it moves slowly but assuredly from ominous abstraction to doom-rock tribalism. It's intense stuff, perfect for scaring away the neighborhood kids or your soundtracking your next funeral.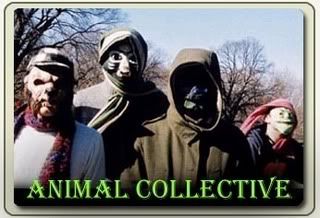 Animal Collective's live shows are infamous for their unpredictability, intensity and general noisiness, and all three where present and accounted for as the avant-pop masterminds took the stage last night at the Fonda. The unremittingly experimental sound sculptors, performing as a 3 piece this particular night (Deakan was noticeably absent), recently released their latest opus, the nearly perfect

Strawberry Jam

(which incidentally, may very well be the album of the year), but as always, eschewed expectations and set aside a majority of their hour and a half set for new, unreleased material. A few of those tunes will be familiar to real big AC fans, such as "Walk Around" and (I think) "Tasty Place". Of course they appeased with a nice selection of

Strawberry

jams as well (5 of the album's 9 songs in fact), including "Fireworks", "Peacebone", "#1", "Chores" and "Unsolved Mysteries".

They even dipped into the back catalogue a bit, with 2 selections from their classic LP

Sung Tongs

, "Leaf House" and "Who Could Win a Rabbit?". Whether it was because of the absence of Deakan or not, the music was almost entirely performed with electronic instrumentation. In fact, Avey Tare only picked up a guitar for two songs. Besides that it was all Geologist and Panda Bear tweakin knobs and flippin switches, with the occasional drum attack from Panda and Avey. This set-up put some songs, particularly the older ones, into a new light. "Who Could Win a Rabbit?" in particular was transformed into a throbbing electro stomper, to the point where I could barely recognized it as it closed the show. It proves beyond a shadow of a doubt that this band can (and will) do anything. Listening to and watching this band continually breakdown musical barriers is a thrilling thing to behold, and it continually begs the question: Why listen to anything else? I myself have hard time finding an answer.