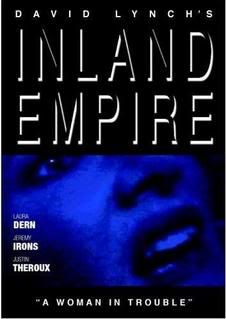 "Strange, what love does..."
With the official announcement of the long awaited

Twin Peaks

box set, and now this week's release of

Inland Empire

on DVD, this is turning into the year of David Lynch.

Inland Empire

, Lynch's follow up to his landmark 2001 feature

Mulholland Dr.

, placed at a cool #2 on my list of the 10 Best Films of 2006 (see sidebar----->), but this DVD release will likely be the first time most people have had a chance to see this twisted masterwork considering Lynch personally distributed the film to only a limited number of theaters last year. So this is a cause for celebration, as not only is the film now available for us to decode and ponder, but it is augmented with over 210 minutes of special features on a 2nd disk (sic: Lynch's typo, not mine).
The film itself was shot completely on digital video, a format which according to Lynch, he plans on using from now on. It certainly looks cheaper on the surface, but it also lends the picture a more realistic, sometimes documentary feel that 35mm just can't offer (it also allows Lynch to shoot a god awful amount of footage, represented here by an hour and a half of deleted scenes). This is not however the best place to start if you have never sampled the art of Lynch, as

Inland Empire

is his most aggressively avant-garde film since his 1977 debut

Eraserhead

. For the Lynch enthusiast though, it is a god send. Follow me:

Inland Empire

is a movie inside a movie inside an enigma wrapped in a riddle and then dropped and shattered into a million disparate pieces, all refracting light and absorbing thought, memory, dreams and nightmares, only to be spewed out into a melange of lost identities, broken hearts and faded memories. This is film in opposition of the highest order.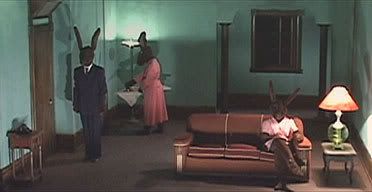 Laura Dern gets top billing, and rightfully so as she carries a nearly 3 hour film on her shoulders, in what had to be one of the most psychically and emotionally draining performances in recent memory. Justin Theroux and Jeremy Irons are listed as co-stars, and that they are, although both have relatively small roles. More prominent in the cast are the lesser known actors, who are represented in the film as The Phantom, The Lost Girl, Visitor #1 & 2, a family of life size rabbits, and a troupe of dancing prostitutes. Confused yet? Yeah it's true, it will take multiple viewings of

Inland Empire

to unravel even a fraction of its seemingly infinite mysteries, but as with most Lynch films, that patience is duly rewarded. And as always, separated from their plots, Lynch films work great as visual art and sound art, with nearly every shot a work of handmade beauty/grotesqueness and every ambient hum and ear shattering shriek perfectly sculpted and articulated. In then end though,

Inland Empire

is quite simply an impossible film to shake from your pysche. Once it gets it's hooks in you, you'll be lucky to ever erase it's haunting images, which - like it or not - will no doubt be forever burned into you subconscious.

Inland Empire

is one of the most perfect marriages of the cerebral and the visceral ever captured on film, and as it stands now, one of the decade's greatest works of art.
As I stated before, the DVD contains 1 1/2 hours of deleted scenes, but not as previously thought, edited into a separate feature. All the scenes are mastered and supervised by Lynch however, with all the requisite sound editing and picture sharpness cleaned up to maintain the utmost quality; and all of them stand alone as interesting scenes. Most are fascinating as side notes though, working as background on a number of characters who are (perhaps purposefully) left vague in the film. There is also a lengthy interview with Lynch included, in which discusses the genesis of the project, the events surrounding the film and lots of other off topic issues, including his aversion to scene selection on DVDs and his anger regarding fans who watch films on iPods, phones or computers. Most interesting is the behind the scenes footage though, which shows Lynch working closely with his cast and crew, with very funny footage of him yelling and getting frustrated with everyone from Dern to his lightning guys - it's a complete 180 to the soft spoken persona that he conveys in interviews. Rounding out the disc is a short film entitled "Ballerina", which is basically (you guess it) footage of a ballerina dancing, as well as a cooking lesson with Lynch in which he teaches you to make Quinoa (what, you were expecting something normal?). It's one of the best initial release DVDs you are likely to find.

Watch the trailer
Watch David Lynch Interview (Amazon.com)