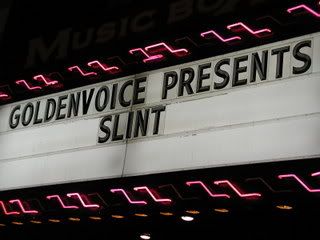 "Don stepped outside..."
And from those three words emerged the loudest pre-song cheer I've heard in quite some time. Of course an equal eruption occurred six times throughout the evening as Louisville post-rock titans Slint worked their way through the entirety of the seminal 1991 LP
Spiderland
. At this point, I shouldn't really have to sell you on the merits of
Spiderland
; by now you know the drill: groundbreaking, landmark, visionary, epochal, legendary and any and every adjective in between. Along with Talk Talk's

Laughing Stock

and Bark Psychosis'

Hex

,

Spiderland

pretty much invented what we now like to refer to as post-rock, seeing as at the time there was no official name for what these bands were doing. It was so far outside the box, so forward thinking, so patient, so atmospheric and so awe-inspiring that without them there would be no Mogwai, no Tortoise, no Godspeed You Black Emperor, no Sea and Cake, no Explosions on the Sky, no Gastr Del Sol; and those are just a few of the North American bands that followed suit. Outside of
Nevermind
, there probably isn't a more influential American rock record in existence.
So now, over 15 years after it's release and the band's break up, ATP's Don't Look Back Series corals the band to perform their 6 song masterwork straight though, and that they did. It was amazing how close to the sound of the record they got on this particular night. Brian McMahan's vocals were a little low, but it was the atmosphere that counted. I've seen pictures of the band performing the record at recent outdoor festivals during the day, and I can't see how the experience could quite translate the same.

Spiderland

demands darkness; it's a creeping, crawling, shadow filled realm unlike any other. It doesn't seem possible for it to exist outside of the blackest nights. So thankfully, The Henry Fonda Theater's lights were appropriately low, lending even more darkness to these pieces of intense dread.
"Breadcrumb Trail" exploded out of the speakers, incinerating the audiences anxiety. "Nosferatu Man" shredded ear drums with its roller coaster rhythms and twin guitar attack. "Don, Aman" was a darkly beautiful hymn to the unknown world which

Spiderland

rarely acknowledges. "Washer" jerked the audience out of "Don, Aman's" hypnosis, diving between intense calm and extreme eruptions. "For Dinner" was a further proof of the tightness and unspoken interplay between the band members, each intricate part layered perfectly to achieve total submersion. And then "Good Morning, Captain", the most foreboding 8 minutes in post-rock, built it's swirling atmospherics like a temple to the heavens, with Brian McMahan reaching the record's emotional apex by proclaiming "I MISS YOOOOUUUUU!!!!". Whatever minds weren't blown by then, were treated to a number of closing instrumental pieces that dipped into the band's back catalog. Of major importance though was the set closing "King's Approach", which as far as anyone knows is a brand new Slint song (!!!).
What stands out most to me listening to record played live is how it has lost none of power or initial impact in the translation. This is a record that will absolutely floor you, and the band (rotating between 4 and 5 members) was locked in tight, delivering the closest approximation you could hope for when seeing an album of this magnitude brought before the masses.