In the past year, I've had the unique opportunity to see Sonic Youth on three separate occasions, all at surprisingly intimate venues. The first (and best) was at the Orange County Museum of Art; the second at this years Coachella; and the third was last night at the 3rd Street Promenade Urban Outfitters. Now, I'm not sure what is more odd, the fact that SY played an Urban Outfitters (for a good cause mind you - Free Yr Radio) or the fact that Dntel (aka Jimmy Tamborello aka James Figurine aka one half of the Postal Service) opened the night with a DJ set. Unfortunately, Tamborello was obscured by a giant speaker the whole time, which explains the absence of any pics.
SY took the stage after an almost unbearable wait, but came through with a solid (albeit short) set that mainly focused on cuts from their last album

Rather Ripped

. Those songs were the usual suspects: "Incinerate", "Reena" "James Runs Free", "Do You Believe in Rapture" and encore rendition of

Rather Ripped

standout "Pink Steam". They appeased with a nice selection of older material as well, including Kim's "Bull in the Heather" and Lee's "Skip-Tracer". The noticeable absence of any

Daydream Nation

material was understandable, as the band is in the midst of ATP's Don't Look Back Tour, which sees the group performing their greatest album in its entirety every night. It was a spirited, dissonant and altogether strong show from one of the greatest live bands of all time.
FYI: They only allowed 300 people into the show, and me and my four friends were numbers 295 - 300 (no joke), which explains why these pics aren't very close up. But you get the idea.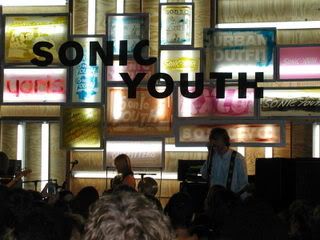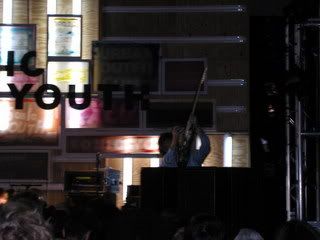 Update - The pickings are slim, but I found this one minute clip of "Incinerate" from the show. Good sound though.