Two of the most distinctive voices in modern music took the stage at The Echo last night. Jonathan Meiburg and his brooding folk-rock troupe Shearwater - touring behind the re-release of their fantastic 2006 LP
Palo Santo
- headlined a bill that included an acoustic set by Xiu Xiu frontman and all around psychotic Jamie Stewart.

Meiburg was in top form, moving from manic yelping to lilting falsetto seemingly at the drop of a hat. The set mainly consisted of

Palo Santo

cuts, including standouts "Red Sea, Black Sea", "Seventy-Four, Seventy-Five", "La Dame et la Licorne" and a show stopping version of album centerpiece "Hail, Mary". Besides being the record that finally removed Shearwater from the shadow of the mighty Okkervil River,
Palo Santo
is also one of the most underrated albums in recent memory. I truly believe - and I don't say this lightly - there are moments on

Palo Santo

as enthralling, beautiful and emotionally cathartic as anything off
Black Sheep Boy
(if you've been following my various blogs for long enough, you will remember

BSB

as my #1 record of 2005). This would have been one of the best live shows I've seen in quite some time anyway, but then they returned to the stage for an encore rendition of Brian Eno's classic (and incidentally, one of my favorite songs ever) "Baby's On Fire", which sent the show out with a bang.
Shearwater is a somewhat recent discovery for me however, whereas
Xiu Xiu has been haunting my dreams for nearly four years. Jamie Stewart put aside the fractured electro-acoustic noise rock of his main band for a quiet (and really short) set of gospel (!?) songs. I have a feeling this was Stewart's warped idea of a spiritual awakening or something. His deep baritone reverberated through the tiny club (helped it would seem by his between song shots of honey), illuminating the pain inherent in even his worship songs. I would have killed for a rendition of "Fabulous Muscles", but this did the trick just fine.
Shearwater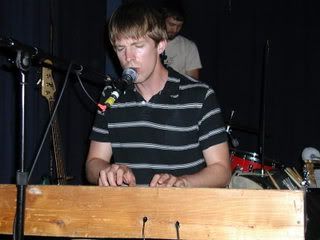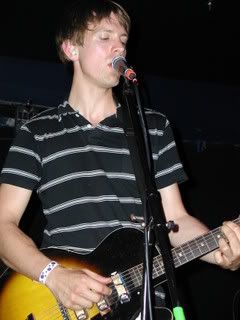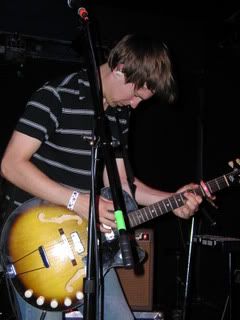 Jamie Stewart