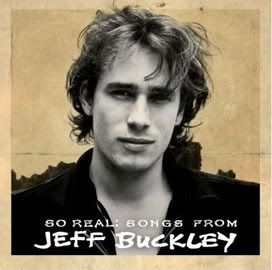 If any artist did not need a greatest hits collection, it was late, great Jeff Buckley. The man only released one album in his short lifetime, in addition to two live EPs. Two of these—the legendary

Grace

LP and the mesmerizing

Live at Sin-e

EP—have, in the last couple years, been expanded as definitive Legacy Editions, complete with bonus tracks, alternate cuts and live tracks. Even Buckley's unfinished record,

Sketches for My Sweetheart the Drunk

, is still readily available. So that's three records with very few missteps, rendering any kind of compiling of these efforts superfluous.

In total, there are eight songs from

Grace

, in one form or another, present on

So Real

. This speaks to the quality of that record, but don't forget that there were only 10 songs of

Grace

to begin with. The opening one-two punch of

Grace

standouts "Last Goodbye" and "Lover, You Should've Come Over" is unquestionably strong, but the high is somewhat deflated by period rarity "Forget Her," a nice tune that unfortunately has to follow up those two tracks. The center of the disc is occupied by a standard rendition of "So Real" recorded live in Japan that adds nothing to the original version, while the last quarter of the record is dominated by both "Grace" and Buckley's now legendary cover of Leonard Cohen's "Hallelujah." This is all well and good, but as these moments prove, there is really just no reason not to start with

Grace

if you want an overview of Buckley's music.

The six remaining songs are taken from

Live at Sin-e

and

Sketches

. The two

Sin-e

tracks, "Mojo Pin" and "Je N'en Connais Pas La Fin", are both great, particularly the former, which puts a nice spin on

Grace's

leadoff track. The

Sketches

tracks are the most interesting, however. It is fairly obvious, even listening to these unfinished tracks, that Buckley was headed in a much different, much more interesting direction with his sophomore album. "The Sky is a Landfill" best exemplifies his new approach (already hinted at on fiery "road version" of "Eternal Life" from mid-1995), with its strangled guitar effects and loads more dissonance that anything on

Grace

. This proves that perhaps, like Kurt Cobain before him—another musician unwillingly thrust into the spotlight—Buckley was most at home in the underground music scene, where his ambitions would have had time and space to stretch out and develop (not unlike his father, the legendary Tim Buckley).

Coming on the heels of the grunge fallout of the early to mid-90s, Buckley's music was a breath of fresh air to those exhausted from the in-breeding of that scene, as well the ever present flannel fashion statements. Buckley was the rare artist that appealed to both the hipsters and the adult contemporary set, effectively bridging a gap that rarely ever connects.

So Real

closes with a somber reading of The Smiths' "I Know It's Over," a song that has always been an ominous cloud of impending passing in and of itself. When Buckley hits the refrain of "Mother, I can feel the soil falling over my head," it is nearly impossible not to get a lump in your throat. Buckley drowned in Wolf River Harbor in May of 1997, cutting short a career of unprecedented success and a potential future of grand artistic statements. His entire legacy is contained within three discs that will run you about $40. Dropping $15 on an incoherent compilation that only wets the appetite is not only a waste of money; it does a disservice to the beautiful brush strokes of Buckley's unwavering creativity.