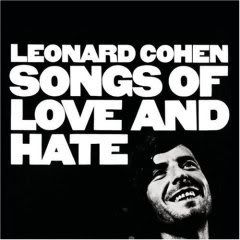 Songs of Leonard Cohen (****1/2)
Songs from a Room (****)
Songs of Love and Hate (*****)
I have long wondered what would have happened if Leonard Cohen had never picked up an acoustic guitar. Having already published a novel and a book of poetry by the mid 1960's, Cohen could have easily made a career as a poet, and I guess in a way he did. Moving from his native Canada to the United States in 1967 to pursue a career in music, Cohen would develop a strikingly original sound in stark contrast to the psychedelic movement that dominated the late 60's (Sgt. Pepper's and Forever Changes would be released the same year, with Odessey & Oracle following in '68). Utilizing the sparsest of instrumentation, Cohen would lay bare his nasal-inflected vocals, inviting listeners to dissect his lyrics, which are as honest and emotional as any ever written. Now, on the 40th anniversary of the release of his debut album, Sony has re-issued his first 3 studio albums, all re-mastered with added bonus tracks.
Cohen had actually made a small name for himself in the music world prior to releasing any albums, having leant lyrics to Judy Collins, who would turn "Suzanne" into a hit in '67 (the lyrics have origins even further back, having actually been the words to a early Cohen poem). But by December '67, Songs of Leonard Cohen would emerge fully formed—a near perfect hybrid of poetry and acoustic folk. Despite Cohen's constant clashing with producer John Simon over the sonic embellishments, the album is still regally stark. I was first exposed to the sounds of Songs of Leonard Cohen through their use in Robert Altman's film McCabe & Mrs. Miller, and none of the medleys have gone far from my head since. The moody atmosphere and delicate arrangements of songs like "Winter Lady," "The Stranger Song" and "Suzanne" are just as awe-inspiring and moving as the day they were written. In fact, I am hard pressed to think of a better side of 60's music than Side 1 of Cohen's debut.
Going into his next album, Cohen had distinct demands for new producer Bob Johnston (who had previously worked with Johnny Cash and Bob Dylan): there were to be no unnecessary accompaniment to any of these new songs and especially no percussion. What they achieved was an even subtler and at times more difficult album, one that dealt head-on with social issues such as war and religion. The chorus hooks weren't always there, but the lyrics were as poignant as ever—from Cohen using the Biblical story of Abraham & Isaac as an allegory for the Vietnam War, to the heartbreaking suicide lament and counter culture dissection "Seems So Long, Nancy." Despite the poor showing commercially compared to his well received debut, Songs from a Room is home to many great songs, particularly "Bird on a Wire" and "You Know Who I Am." It's often overlooked because of what came before and after, but Cohen's sophomore outing is one of his most rewarding albums.
After the release and subsequent commercial failure of Songs from a Room, Cohen would burrow even deeper into the darkness in the early 70's. Sticking to his formula of zero percussion and minimal instrumentation, he would build on the dourness of his previous record and unleash his strongest collection of songs yet, appropriately entitled Songs of Love and Hate. Expanding the arrangements and piling on even more atmosphere, Love and Hate contains only 8 songs, each a perfect realization of Cohen's torment and desire. The opener "Avalanche" is a pure, slow moving death march, burying the listener into the deep recess of Cohen's mind. The overwhelming nature of the album is broken only once, for the side 1 closing, call-and-response jam "Diamonds in the Mine"—at 3:50, it's no wonder it is the shortest song on the album; there's no room for any light. Side 2 is pure desolation though, moving through 4 lengthy classics, one of which is "Famous Blue Raincoat," perhaps the apex of Cohen's early work. The penultimate track "Sing Another Song, Boys" (recorded live at the Isle of Wight in 1970) is the climax of the album with Cohen and his backup singers moving toward a denouement worthy of a gospel choir. The album ends with the epic "Joan of Arc," re-establishing the character that had haunted his debut album, bringing full circle this trio of classic albums.
Songs of Love and Hate marked the last time Cohen would keep things so simple. The rest of the 1970's saw Cohen adding and experimenting with instrumentation, with sometimes interesting but occasionally forgettable results. However, his first three records are the purest distillation of the Cohen aesthetic. It wouldn't be until 1988's fantastic I'm Your Man that Cohen would be able to fully integrate more modern sounds into his music. One needs look no further than these three records to find the heart of late 60's and early 70's folk music. Each of these reissues are expanded with bonus tracks, the most interesting of which are the two songs appended to Songs of Leonard Cohen, "Store Room" and "Blessed is the Memory." These early Cohen records have always had a hollow, seemingly infinite depth, making them feel ageless, but these reissues are cleaned up nicely and sound even better than the late 80's CD versions that are sitting on my shelf. Whether you are new to the world of Leonard Cohen or a long time fan, these reissues are cause for examination and ultimately, celebration.