On the surface, you wouldn't think that Bradford Cox and Jena Malone (yes,
that
Jena Malone) would have that much in common; but both front art-rock bands, wear wigs, and come on stage sporting lovely sun dresses. But Cox is a much more ominous figure, and as the front man for Deerhunter (who straddle a thin line between noise rock, ambient and psych-pop), casts an imposing shadow that is compelling and completely appropriate for the mayhem of their shows. They've already released what will end up one of the years defining albums with
Cryptograms
, and they melted faces will an explosive show-opening rendition of "Lake Somerset", in which Cox abandoned all lyrics and shouted, looped and screamed a confessional for the late, great Germs founder
Darby Crash
. They ran through a good deal of the
Cryptograms
highlights, as well as a song from their fantastic new
Fluorescent Grey
EP. This was the most intense show I've seen in quite some time.
Jena Malone and Her Bloodstains bring the weirdness as well, with Jena moving from Chan Marshall-like croons to Janis Joplin yelps to deep, growling chants. She was clearly having a great time performing, barely able to contain her smile at any given point. As far as I know, there is no album yet, but you can listen to some songs
here
- trust me, it's well worth it. Chi-town powerhouse The Ponys headlined the show, but because of circumstances out of my control, I couldn't stay. What I can tell you is that their newest album (in which they've gone form the world's best Television and Voidoids impersonators to the world's best early 90s SY impersonators) is now their 3rd solid album in a row. Do yourself and favor and pay attention.
Deerhunter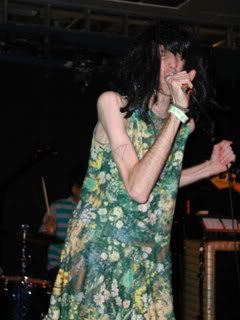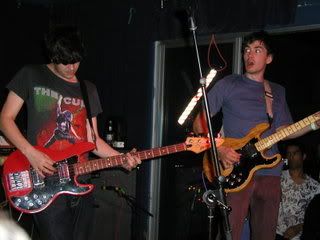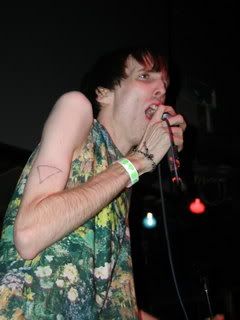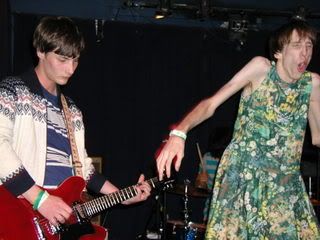 Jena Malone and Her Bloodstains