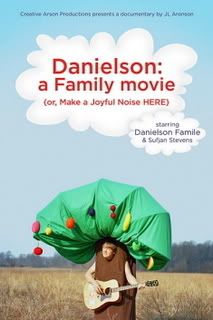 Daniel Smith's revolving troupe of family & friends that make up the Danielson Famile are finally brought into the spotlight in this unique music documentary. The film covers the entire Famile, from their initial inception as a thesis project for Daniel all the way until the release of last year's jaw dropping

Ships

LP. The film features interviews and footage with indie rock icons such as Alan Sparhawk, Daniel Johnston and (believe it or not) Steve Albini. If you are into orchestral folk superstar Sufjan Stevens you will probably enjoy this as well, as Stevens was an early fixture in the Danielson Famile and the film follows a subplot about his surprising rise to fame. This is a quality documentary no matter how you look at it, but as a deconstruction on the place of Christian music in the indie rock community, it is nearly essential.
The DVD has a whole slew of extras, including a ton more interviews with Daniel, family, friends and fans. There is even more live footage, music vidoes, ATP footage, some deleted scenes and audio commentary by director JL Aronson & Vito Aiuto.This is well worth the $15 price tag.
Movie (***) - DVD (***1/2)
Watch the trailer