Another year, another Coachella fest. This year was special though - the typical handful of the best young indie bands performed, but one very legendary band put their differences aside and reformed to the surprise of everyone. Here are some pics from Day 1. Besides these bands, I also saw Arctic Monkeys and Bjork, but the pictures are nothing special. I've gone ahead and posted a nice little video of each one instead, which trust me, does more justice than the pics ever could. Every band I saw was fantastic though.
Tokyo Police Club, Mojave Tent 3:30 pm
Since I had to wait in the will call line for nearly 2 1/2 hours, I missed a couple bands that I had hoped to see. I got in just as Tokyo Police Club was taking the stage though. They drew a large enthusiastic crowd and delivered admirably. Their songs are all pretty short, so it seemed like they played nearly everything off their 2 EPs. These guys are something special, and I'm sure it won't be long before they are taking over the air waves.
Of Montreal, Outdoor Theatre 4:55 pm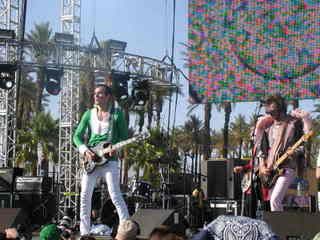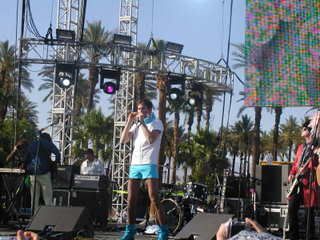 It is worth a double-take to realize how odd it is that it has taken 8 albums for Of Montreal to really break out. I have a soft spot in my heart for their early E6 affiliated years, but this new glam-rock phase fits Kevin Barnes pretty well. Their set consisted almost entirely of songs from their great new album

Hissing Fauna, Are You the Destroyer?

, and even though Barnes' constant wardrobe changes did kill the momentum occasionally (or maybe it was just the heat), this was probably the most blatantly enjoyable set of the day.
Arctic Monkeys, Coachella Stage 6:25 pm
The Jesus & Mary Chain, Coachella Stage 7:40 pm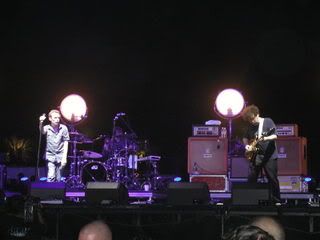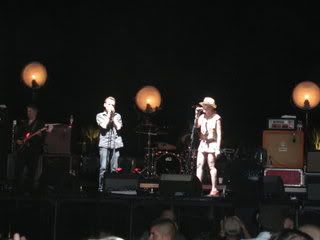 And here's the main reason I made the trek out to Coachella this year - a reunited JAMC, the progenitors of the shoegaze movement. This was their 2nd show on their reunion tour, their first performances together in over 9 years. Jim and William Reid are obviously the focal points of the band, but they were complemented nicely by ex-Lush bassist Phil King, second guitarist Mark Crozer, and the pummeling thuds of ex-Ride drummer Loz Colbert (who incidentally provided what I feel is the best percussion I've ever heard on record for 1990's

Nowhere

). It seemed like they hadn't missed a beat, manuevering though classics like "Some Candy Talking" and "Head On". What suprised me was that they only played a few songs from what is far and away their best album,

Psychocandy

. Of course, one of those songs was "Just Like Honey", and the rumors proved to be true - Scarlett Johannson joined the band on stage to sing backup vocals on the indie-rock classic. It was a great moment. They even played a NEW (!) song. The apocalypse can't be far behind.
Jarvis, Outdoor Theatre 9:40 pm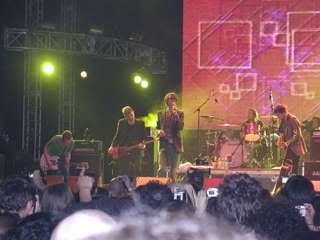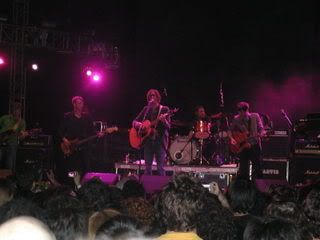 A trip to America for ex-Pulp frontman/Brit-Pop icon Jarvis Cocker doesn't happen very often anymore, so I considered this a treat. He didn't really delve into the Pulp catalog, instead playing selections from his newly released LP

Jarvis

. His between song banter was probably more entertaining than the music, which was typically great. The guy could seriously be a comedian, if he wasn't already one of the best pure showman rock has ever seen. Getting hundreds of people to sing along to "Running the World" was especially funny.



Sonic Youth, Outdoor Theatre 9:55 pm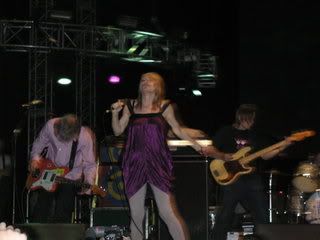 All the other bands should be ashamed of themselves for letting a band, who's members are all pushing 50 years of age, put on the best show of the evening. Of course, this is the ageless Sonic Youth (or THE Sonic Youth as Thurston introduced them), probably the most consistently groundbreaking band of the last quarter century. This is the second time I've seen them in about 6 months, and they were again joined by ex-Pavement bassist Mark Ibold, and they played pretty much all the same highlights from 2006's

Rather Ripped

("Incinerate", "James Runs Free", "Reena", "Pink Steam", "What a Waste" "Do you Believe in Rapture?"), but mixed it up with the old songs. This time we got such classics as "Candle", "Mote", and "100%". And the dude yelling for "Shaking Hell" all night got his wish - after an aborted finale and the crowd chants for "1 MORE SONG!", they got the permission to come back out and obliged with a ferocious version of their early 80s classic.I am still trying to wrap my head around that fact that I saw the Jesus & Mary Chain, Jarvis Cocker and Sonic Youth back-to-back-back.



Bjork, Coachella Stage 10:45 pm