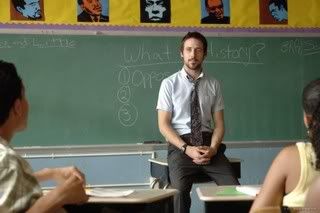 Things went according to plan at the Spirit Awards this afternoon. I only missed 2 prediction and that was Francis McDormand for Supporting Actress and

Road to Guantanamo

for Best Documentary.

Little Miss Sunshine

and

Half Nelson

swept up everything as expected. 2 great, unexpected things happened though - First was the wonderful tribute to Robert Altman, which included a clip show and reminiscing from former collaborators Elliot Gould and Sally Kellerman. Beginning next year there will be a Robert Altman Award for outstanding cast in a motion picture and I can't think of a more worthy name to attach to that award. Second was the Special Distinction Award given to David Lynch and Laura Dern in honor of their 3 unique collaborations in

Blue Velvet, Wild at Heart

and last year's

Inland Empire

. Dern speech was particularly inspiring. So all in all not a bad afternoon. Tomorrow is the big day though.