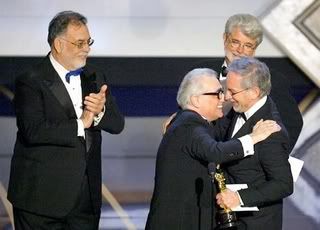 The Departed
came through on all the hype tonight, something I admittedly didn't think it could do. I salute the Academy for picking something with balls, a true American masterpiece directed by one of the greatest directors of all time, and easily the most worthy Best Picture winner since
American Beauty
in 1999.
I was correct that editing would be the deal breaker. Once Thelma Schoonmaker took home the Oscar, it would have been monumental if
The Departed
had lost. It also proves that there was a total miscommunication about what category Dicaprio should be put in, because if the Academy loved the movie this much then he would have been nominated. I still can't explan the Jack snub though. But it was one of the great pleasures of my life to watch Martin Scorsese take home that elusive 1st Oscar. The standing ovation was hugely emotional. What a moment.


Pan's Labyrinth
made a good showing as well, taking home 3 Oscars, but not Best Foreign Language Film. The Academy needs to shake up the Foreign Film committee, because it is inexplicable that
The Lives of Others
won. The committee is notoriously crazy for not choosing the popular films.
Pan's
is a groundbreaking, important piece of cinema, as well as a financial smash. They also snubbed
Volver
for some weird reason. This stuck-up click needs to be broken up.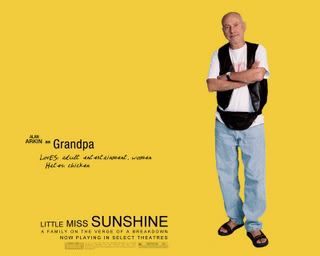 And big props to Alan Arkin for his Supporting Actor Oscar. It was easily the most impressive scene stealing performance I saw all year. Those
Norbit
ads definitely put the nail in Eddie Murphy's coffin. If Jackie Earle Haley couldn't win, then I am glad it was Arkin. He truly deserved it.
I only went 16/24. Not horrible, but not too good either. The biggest heart breaker for me was
Children of Men
losing Best Cinematography. I mean, there's no bigger supporter of
Pan's Labyrinth
than me, but anyone who has seen
Children of Men
would know that Emanuel Lubeski's cinematography was virtuoso work. So that was a bummer. Anyway, here are the winners:
Best Picture: The Departed
Best Director: Martin Scorsese
Best Actor: Forrest Whitaker - The Last King of Scotland
Best Actress: Helen Mirren - The Queen
Best Supporting Actor: Alan Arkin - Little Miss Sunshine
Best Supporting Actress: Jennifer Hudson - Dreamgirls
Best Original Screenplay: Little Miss Sunshine
Best Adapted Screenplay: The Departed
Best Foreign Language Film: The Lives of Others
Best Editing: The Departed
Best Documentary: An Inconvenient Truth
Best Original Score: Babel
Best Original Song: Melissa Ethridge - I Need to Wake Up
Best Visual Effects - Pirates of the Caribbean: Dead Man's Chest
Best Cinematography: Pan's Labyrinth
Best Costume Design: Marie Antoinette
Best Animated Feature: Happy Feet
Best Sound Mixing: Dreamgirls
Best Sound Editing: Letters from Iwo Jima
Best Makeup: Pan's Labyrinth
Best Art Direction: Pan's Labyrinth
Best Animated Short: The Danish Poet
Best Live Action Short: West Bank Story
Best Documentary Short: The Blood of Yingzhou District